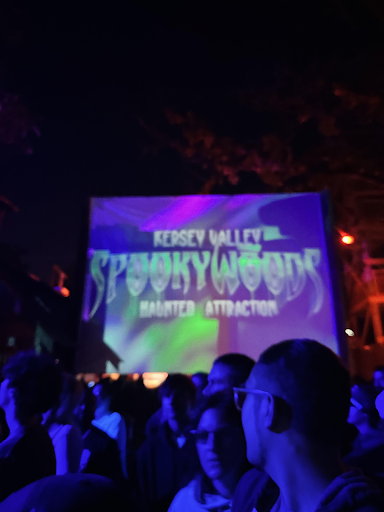 The fog slowly drifts towards you and your friends as you hear a bell ringing in the distance. Suddenly, a tall creature reaches toward your face and drapes its long fingers over your shoulder. All you can do is scream and wait for it to go away. 
This may sound like an excerpt from a horror fiction novel, but at Kersey Valley Spookywoods, this is reality. Every Halloween season, the family fun center turns into what can only be described as a manifestation of your worst nightmares after dark. 
Located in Archdale, about 20 minutes away from Guilford College's campus, Spookywoods has been scaring friends and families for the past 39 years. According to its Oct. 2 Facebook post, the Sept. 30 opening night saw the center's highest attendance in history. Now that's something to scream about. 
As a haunted attraction enthusiast, I have been to Spookywoods several times since 2016. Part of what makes this place special is that the theming is updated every year, so visitors can never be quite sure what to expect. 
My last Spookywoods visit was with my partner in 2021 and, to be truthful, I was a little disappointed. The walk-through was shorter than normal and it was missing the iconic "fright tram" that guests rode through the dark forest. The 2023 season did more than just make up for that letdown; it took the experience to a level of fear I had never experienced before. 
Not only are the fright trams back, but Spookywoods has also introduced a brand-new themed area titled "Icons of Horror." It is a lengthy trek through the woods at the back of the attraction in almost complete darkness, leaving you feeling isolated and vulnerable even while in a group. The only thing there to keep you on track is the feeling of the gravel paths underneath your feet. 
After visiting so many haunted houses over the years, I can confidently say that I am not one to easily scare. However, that all changed this year. During the "Texas Chainsaw" portion of the "Icons of Horror" trail, I was chased by a man wielding a chainsaw for what felt like forever, becoming separated from the group amid seemingly bloody sheets hanging from the trees.
Whatever your biggest fears are, Spookywoods has got you covered. Although he got a laugh out of my being targeted by the chainsaw man, my friend Max Kiederer was particularly frightened by the pitch-black room filled with cages that we had to feel our way through to escape. 
On this year's trip to Spookywoods, I was accompanied by my family and two Guilford friends, Kailee Hughes and Kiederer. 
Hughes, a senior at Guilford, was most shaken up by the corn maze that preceded the attraction's iconic mansion. Fog and lasers created the illusion that there was no path to follow, so we had to hold on to each other and blindly push forward, hoping for an exit. The presence of monsters behind the shaking stalks of corn was terrifying for me as well, as I was leading our group. 
A shocking feature of this year's production was the number of young children roaming about. There were even some young boys acting within the walls of the mazes, which absolutely threw us for a loop. It seems that Kersey Valley is trying to gear Spooky Woods toward the whole family.
Whether you have never been to a haunted attraction before or simply not this one specifically, Spookywoods is a must-see before October ends. So, grab some friends, put on your bravest face and an outfit that's easy to run in, and get ready for a dark and thrilling night to remember.