'Five Nights at Freddy's': a movie built on a video game, a story, or Youtubers?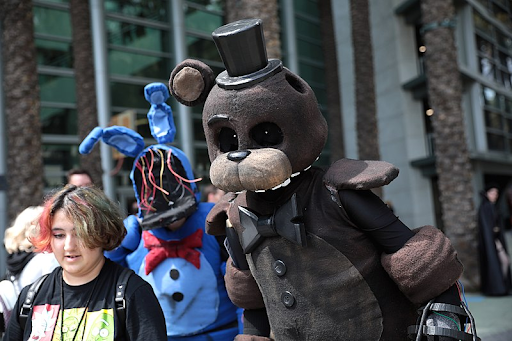 "Hello, everybody. My name is Markiplier, and welcome to 'Five Nights at Freddy's.'" 
On August 12, 2014 (my birthday, by the way), the indie horror game scene was changed. Markiplier was a popular gaming channel at the time, nearing three million subs that August. "Five Nights at Freddy's," on the other hand, was a new indie horror game, and game developer Scott Cawthon's last-ditch effort at making a successful game. For YouTube, Markplier and the game were a perfect storm.
After Cawthon's massive success with the first game, he added three sequels to the "Five Nights at Freddy's" franchise, all of which Mark played. These play-throughs earned him 10 million subscribers by the end of 2015, and as of now, he has millions of views across videos covering the franchise.
While Markiplier may have gained his crown from the "Five Nights" franchise way back in the day, several Youtubers have contributed to the game's success. Gamers like Jacksepticeye, theorists like Dawko and Matthew Patrick from Game Theory and hundreds of others have thrown their hat into the franchise, giving the game exposure, meaning and a community. 
I myself, for better or worse, have remained in this community since my discovery of the franchise in 2015, shortly after the third game was released — so much so that I followed the book series that Cawthon and Kira Breed-Wrisley wrote in early 2016. My god, was Scott busy! Among all his projects, there was one rumor that left fans trembling with excitement at the mere thought of it.
Finally, in December 2022, after seven years and some questionable games, books and lore, news broke that beginning in February 2023, the production of the Five Nights at Freddy's movie would begin, and that it would hopefully release in August 2024. With this news, came a whole new load of content for FNAF fans and Youtubers to discuss and speculate upon, such as the story, lore implications and casting.
 As is the typical habit of the franchise, the film's story has been left vague. At this time, we don't know many details about casting, and so far, there's no synopsis of the film itself. Knowing Scott Cawthon, the plot and casting will remain vague up until right before the release of the film, if that. 
So far, in terms of casting, fans are pleasantly surprised. A few of the cast members are veteran actors. Matthew Lillard is known for his roles in "Scream" and "Scooby Doo," and would be taking on the role of William Afton, aka "Purple Guy." Actor Josh Hutcherson, known for his roles in "The Hunger Games," "Detention" and "Tragedy Girls," has been tapped to play night security guard Mike Schmidt, while Piper Rubio has been cast as Mike's younger sister Abby. Abby is a bit odd because of current franchise lore, but I'll save that for another article.
 Also, a big relief for fans was the news that the director would be Emma Tammi, and that the screenplay was written by Tamini, Seth Cuddeback and the man, the myth, the legend, Scott Cawthon. Hopefully, the storyline will make sense this time, eh, Scott? The effects will be done by Jim Henson's Creature Shop, known for their work with the Muppets franchise, so we know that our favorite animatronic will be in amazing hands.
All jokes aside, the movie is looking pretty good, but as is the case with all franchises nowadays, some are still not satisfied. In a single search on TikTok, you'll see hundreds of videos that say that Markiplier should be playing Willam Afton or that Matthew Patrick should be playing the nostalgic "Phone Guy."
This is what made me want to write this article, besides getting to rant about the franchise on paper. We've seen YouTube make or break careers. In this case, it helped Scott Cawthon achieve his dream and more. It turned Markiplier, an average gamer, into a celebrity who was able to direct a choose-your-own-adventure story that rivals some of what we've seen on the big screen. It's no secret that YouTubers are becoming more. They're not just influencers, but they're creators, actors, musicians and community builders. So should they have a part in such a big advancement of the franchise?
Personally, I'd say yes. I think that I'd love to see a connection between where the franchise came from and where it's going. Bias aside, I also think there are many creators fully able to carry themselves on the big screen. However, we'll have to wait until the movie releases to know anything for sure. I have a feeling if Scott is giving the Kings of Five Nights a chance to shine, he'll keep it pretty close to the chest. After all, the end of one story is only the beginning of another.
View Comments(1)