Students share their experiences with the Early College at Guilford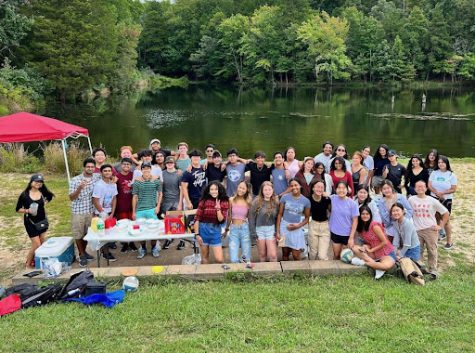 The Early College at Guilford (ECG) has represented a strong partnership between Guilford College and Guilford County Schools for 20 years, according to an article by the Greensboro News & Record from 2002, the year the school was founded.
Students take tests in English and mathematics, and, until recently, gave an interview, in order to make it into the #1 high school in North Carolina. These requirements were waived during the COVID-19 pandemic.
For such a highly rated school, the scene is definitely underwhelming. The entirety of the ninth and 10th grade classes are split between two trailers located on George Fox Drive. Stories of a family of foxes living under the trailers circulate on a regular basis, jokes Tanisha Golla, a junior at the Early College.
In their first and second years of high school, Early College students attend classes on a block schedule in sync with the Guilford County Schools calendar. Required courses include one AP class their freshman year and three their sophomore year, with some opting to take up to 7 over their two years in "high school." 
The academic rigor and reputation of the school makes it a dream school for many high-achieving students in the Greensboro area. However, those who do attend say that sophomore year is their most stressful year of high school, even after they have taken college classes. 
"What do I like about ECG?"  said freshman Sam Aycock. "All the benefits of being a college student. What I don't like? All the schoolwork." 
Once they become high school juniors, ECG students are full-time college students, and their  workload is much heavier than that of the average high schooler. These students take only college classes for their junior and senior years of high school. This allows them to interact and be fully immersed with college students, professors and the Guilford campus. It also gives them more time for extracurricular activities.
Anika Suman, a senior at the Early College, touched on how taking Guilford College classes has helped her with her long-term goals: "I want to go into computer science, and having college classes that are more in-depth and more detailed would be much more useful for me." 
"My favorite part of the Early College is definitely, like, just kind of the freedom and the courses that are provided once you get to the Guilford part of it, when you're a junior and senior," said ECG senior Jaido Ramirez. "We're just treated like normal students, at least by the administration and the professors."
Despite the general maturity associated with ECG students, Suman commented that Guilford students might still find some students–mostly ninth and 10th graders, who tend to travel in herds–a bit obnoxious around campus. 
"They're just kids being kids," Suman said. "They're just out of middle school so I don't think it's much of a problem, but I understand that Guilford College students…they're in college, they want to get rid of high school." 
Early College junior Osman Sohaib emphasized the flexible schedule as a big advantage of attending ECG. Students also generally agreed that Guilford classes tend to be less-stressful than classes they take in their freshman and sophomore years of high school.
"It's a lot easier…I feel like it has the same vibe as, like, a small community where you get one-on-one interactions more," said Sohaib about his Guilford College experience.
Although the majority of ECG students plan to attend other colleges, UNC Chapel-Hill being the most popular destination, students enjoy the amenities provided to them on the Guilford campus.
Around 12:30 p.m., a notable crowd of Early College students usually flocks to the Grill and Rachel's Rose Cottage, marking lunch break for ECG underclassmen. Both underclassmen and upperclassmen are able to use Hege Library's Commons Ground (before 5 p.m.) and access its online database. Many, like Sohaib and Suman, agreed that this is their favorite place to hang out and study. 
"It's pretty cool,"  said Early College junior Morgan Isaacson. "Especially as an underclassman, it was…a great place because you didn't get to do a lot of stuff…but, like, now I don't really care because I can drive."
"I honestly think this is the best high school I could have gone to," Suman said. "The rigor that it provides, the community that it provides, especially the staff, the teachers were so dedicated to us…I was able to be prepared as a college student." 
Suman also highlighted the fact that she has made friends with traditional Guilford College students, saying, "I do the Guilford College choir, so I've been able to make a lot of friends there."
While the stress of the workload and rigor of the Early College at Guilford may make it difficult for students to have a traditional high school experience, most students believe it's worth it to experience the opportunities and challenges the school offers. 
According to Suman, "It's the perfect mixture of high school experience and college experience that I'm sure is going to make me better prepared for what comes next."
Leave a Comment