Guilford students navigate swipes, snares of dating apps
Many 2000s movies and television shows focused on true love and finding "the one." An example of this is "How I Met Your Mother," which premiered on Sept. 19, 2005. The show centered around five friends living in New York City, with Ted as the main focus. At last, after eight seasons, Ted's love interest, Tracy, was introduced in the ninth and final season. 
Movies and television shows are not known for being accurate representations of what happens in everyday life. In fact, many movies and TV shows set some unrealistic expectations for how a relationship should look. "The Notebook" was a primary example, especially considering how much Noah does for Allie in the movie.
However, some TV shows and movies did accurately depict how relationships began in the 2000s—people talked to each other face-to-face before moving to the next stage in their relationship. Nowadays, while texting can count as talking, you might not know that person's intentions. You are missing face-to-face interaction that allows you to clue in on cues like body language and facial expressions. 
Before the introduction of smartphones, relationships potentially could be much more interpersonal and meaningful than they are now. 
According to a 2019 Pew Research Center survey, "among partnered adults in the U.S. … those who are married, cohabiting or in a committed relationship, roughly half (51%) say their partner is often or sometimes distracted by their cellphone while they are trying to have a conversation with them." 
The introduction of dating applications arguably have made relationships more of a game than ever. According to datingsitesreviews.com, Tinder, one of today's most popular dating apps, had around  57 million active monthly users in early 2021, which means plenty of options for someone looking to get into the dating world. 
According to an article from The Union Journal, an online financial news service, "online dating can be extremely rewarding."  You never know who might like your profile or who your new match is, which makes it exciting for some.  And given the social distancing, isolation and quarantining since COVID-19 started to emerge in the U.S. in March 2020, it's no surprise that dating apps saw a surge in new users and activity during the pandemic. 
According to a February 2021 Fortune article,"in March 2020 Tinder recorded its highest number of swipes on a single day: 3 billion. From March to May 2020, OkCupid saw a 700% increase in dates. And over on Bumble, video calls increased by 70%." 
With the increase in users and activities, each dating application has its benefits. Tinder allocates 50 free likes to its users every day, a much larger amount than the 10 free likes that Hinge users receive. While many people mainly use these apps for hookups, some users are looking for something more than that. They want to build more interpersonal relationships, and Hinge has been finding ways to help its users do just that. 
On Tinder, you only have to do three things: have a few pictures, create a biography and pick a few interests or hobbies you have to display. However, some opt out of writing a biography, which means you only know what that person wants you to know about them. Hinge is not perfect, but you have a better chance of getting to know someone on the app because you are required to have a select amount of pictures and must fill out three prompts that let people get to know you. 
"I used Tinder and I didn't like it because it was too heavily focused on surface-level judgments based on appearance," said sophomore Darren Brady. "I'm kind of against dating apps as a whole but I think dating apps like Hinge and Bumble are a better idea because they let people at least know each other more than others." 
Grace Christensen, also a sophomore at Guilford, has a more favorable opinion of Tinder.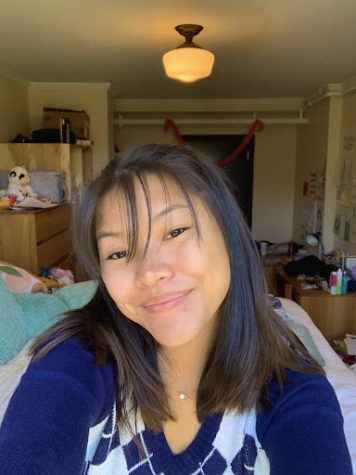 "I have used Tinder. I like that there are so many people around me," she said when talking about the app. But she doesn't like "that Tinder feels like a game, because I wouldn't want someone to just play with my feelings.
"I like the idea of apps trying to build more interpersonal relationships but it seems like it would be hard to maintain it. People just equate these apps and use them for the same purpose, mainly hooking up, and it seems like it would be hard to monitor the intentions of someone behind a screen."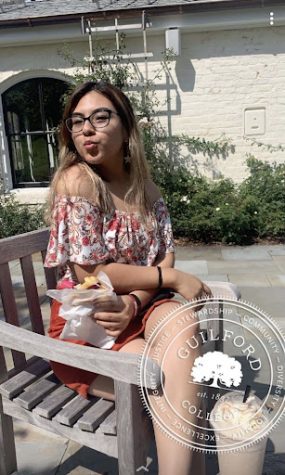 Betzy Cilio, a Guilford sophomore, said "I've only ever used Tinder and I don't like (dating apps), but I don't hate them either. I actually really liked Tinder and how it works, since you can know if someone is who they say they are, and also they have this feature where you can send a quick SOS if you're on a first date, so that's really helpful and safe for anyone.
"I think that's a great way to create a connection with someone and get to know who they are as well as getting to know their interests," Cilio added, offering her thoughts on more interpersonal apps like Hinge. "It's also a great way to create a friendship with someone before getting into a relationship with them." 
Sophomore Elisa Austin said she's never used a dating app. 
"However, they are a good way to meet people without needing to meet them in person," Austin said. "Dating apps are a good idea because they allow you to get to know if you will like someone before you have to meet them in person, which can be a safer alternative.
"When looking at dating apps like Tinder and Hinge, I think that Hinge would work better if you are trying to build more interpersonal connections and long-lasting relationships because of the three prompts." 
One thing that many people look for when swiping right on Tinder or liking someone's profile on Hinge is potential red flags. Urban Dictionary defines a red flag as "a sign or warning of any impending danger, disaster or doom." In a potential relationship, a red flag can signal that a person you're thinking of dating could be someone to be wary of. 
"I think some red flags would be if someone only has an interest in talking about themselves and when people don't fill out their bios or put very little information," Austin said.
Christensen believes not having many pictures or information about yourself on a dating app is a huge red flag.
"Some red flags on dating apps are one or two pictures and no biography. Some green flags are pictures with friends, a variety of settings and angles, and dogs, Christensen said.
"Some red flags I encountered were people using black squares as their profile picture or asking weird, straightforward questions right away," Brady said.
For Cilio, "some red flags would definitely be if they clearly state they want to hook up instead of trying to have a serious relationship and create a bond with someone. No judgment to those who only download them for that, but I'm saying apps are supposed to be a place where you can find and create a bond with someone."
Leave a Comment