Snow from this winter and what is to come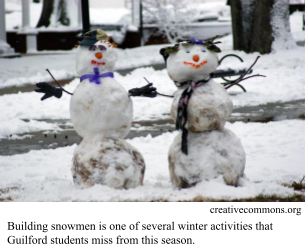 Snowmen, snowball fights and sledding. These winter staples that many have enjoyed in the past may not be a realistic possibility this year. With the strange weather we have experienced so far, it might be hard to believe that a heavy snowfall is still possible before spring arrives.
The winter is almost halfway over, and the weather encountered so far has been odd. We have not seen any meaningful snowfall this season. With the few that occurred, the snow ultimately melted within hours – if it stuck to the ground at all. This year's inclement weather has been lackluster, especially when compared to that of recent years. 2018, for example, had a massive snowfall of 12 inches, leaving Guilford County Schools closed for an entire week.
Greensboro has never been known for particularly snowy winters, but winters with this little snow are still unexpected. However, hope may not be lost, since Greensboro's wintry weather often comes later in the winter. Since the season isn't quite over yet, there may be a lot of snow to come. As for the next couple of weeks, it is not likely according to Greensboro's ten-day forecast, but we may see more slushy snow.
Whether the snow can be used in common winter activities such as building snowmen depends greatly on the consistency of the snow as well as how much there is. As many Guilford residents probably know, building snowmen with powdery or slushy snow will not work very well.
"North Carolina has weird weather," said Early College student Angelina Guerrero. "Half the time, the snow is either too slushy, too icy or too powdery to do anything of significance."
When the snow is not too slushy, too icy or too powdery, several common winter activities including snowball fights and building snowmen become more popular. Many Guilfordians have fond memories of winter involving these activities as well as other winter pastimes like skating or sledding.
"I have fond memories of spending some of my younger days in Michigan. It was cold enough there in the winter to be able to make an ice rink in our backyard, where we spent a lot of time skating and falling down – more of the latter than the former," said Chemistry Professor Dave Millican.
 "During the winter season, I love to go up to West Virginia to go skiing," said Early College student Nathan Jordan.
Others remember less known yet very enjoyable winter activities. 
"I would take plastic bowls and collect the snow and then put condensed sweetened milk in the snow to make 'snow cream' and it was great," Guerrero reminisced.
However, not all parts of snowy weather are as sweet as snow cream. Icy roads can cause car accidents and other inconveniences. Some members of the Guilford community expressed their squabbles with the winter weather.
"I love to see snow; my affection for it is less if I have to shovel it," said Millican.
2021's lack of snow has disappointed several Guilfordians, while others, such as Millican, are looking forward to not having a lot of snow to shovel. Most can agree that shoveling snow in the extreme cold can feel very burdensome.
Despite it being so freezing, plenty of people enjoy the cold weather that winter brings as compared to the harsh hot weather of summer.
Overall, this season has been rather snowless, but with much of the winter still left, a heavy snowfall is not unlikely. If a heavy snowfall does occur, many Guilford students will likely be building snowmen and throwing snowballs from a safe distance.
Leave a Comment