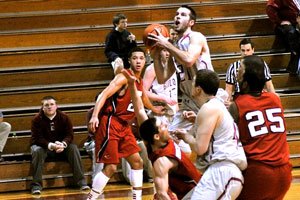 Malikah French, Guest Writer

February 15, 2013
Cheers echo through the stands of Ragan Brown Field House as the familiar name bellows over the intercom: Josh Pittman. A North Carolina native, Pittman has worked hard to offer leadership to his teammates on and off the court. Friends have described him as humble, laid back and close enough to be family. However,...
Charlotte Hudson, Staff Writer

February 8, 2013
As the dog days of college basketball approach, the Guilford Men's basketball team has one important matchup coming up on Feb. 9 against a very tough opponent. The Virginia Wesleyan Marlins (16–6, 11–2 ODAC) will be coming into this game, second in the Old Dominion Athletic Conference. Guilford...