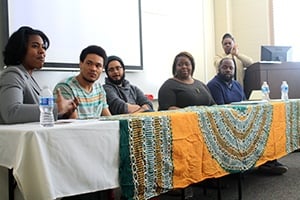 Nicole Zelniker, Features Editor

March 6, 2015
On Feb. 27, the Multicultural Education Department, Africana CHANGE and Brothers and Sisters in Blackness hosted the second annual All Black Everything symposium. "We wanted to have a day to celebrate black culture, to take time to explore blackness worldwide," said Director for Educational Initiatives...
Emma Rumpl, Staff Writer

November 21, 2014
Last year, three Guilford College students and one faculty member proposed a three-day curriculum for Guilford's First-Year Seminar program. The curriculum was designed to introduce first-year students to racism and other forms of oppression and teach them how to combat it. Since it was announced,...