Symposium celebrates black culture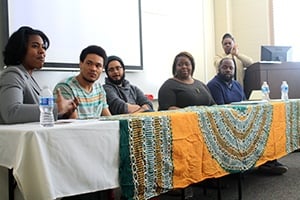 On Feb. 27, the Multicultural Education Department, Africana CHANGE and Brothers and Sisters in Blackness hosted the second annual All Black Everything symposium.
"We wanted to have a day to celebrate black culture, to take time to explore blackness worldwide," said Director for Educational Initiatives and Partnerships Jada Drew '07.
After a short snow delay, the conference began at 10:30 a.m. with keynote speaker Sudie Nallo, professor at University of South Carolina College of Social Work. Nallo spoke about economically sustaining people who identify as black in America.
"We (in the black community) have a 20.5 percent underemployment rate," said Nallo.
According to ThinkProgress, simply raising the minimum wage to $10.10 could bring over three million people of color over the poverty line.
"Because whites are more likely to get better paying jobs, blacks are more likely to be stuck with minimum wage jobs," said Raleigh native and Historic Thousands on Jones Street march participant Heather Travar in an email interview.
"So when our government says the minimum wage doesn't need to be raised, it's sending a message loud and clear, as far as I'm concerned."
Nallo also spoke about the role of education in the black community.
"Education, in no way, (is) your golden ticket, (but) it is a factor," said Nallo.
Conference participants split up into workshops immediately after Nallo's opening remarks.
Other speakers included Guilford College students and staff such as Barbara Lawrence, associate professor of justice and policy studies and director of the Guilford Higher Education Major in Prison Initiative, senior Khadija Carr and senior Chelsea Yarborough.
Speakers also came from outside the Guilford community. One such speaker was Cameroon native Karl Bedzigui.
"We live in these differences every day, but refuse to admit that it's part of our narrative," said Bedzigui. "Blackness is a legacy of suffering."
In his session, "The Other Other: African in America," Bedzigui spoke about identifying as a black African.
"I'm not exotic," said Bedzigui. "I'm not cute. Black is all I got."
One panel featured Bedzigui, his sister and Guilford College junior Teresa Bedzigui, LGBTQQA Coordinator Parker Hurley, senior CJ Green and Center for Principled Problem Solving Project and Communications Manager Delilah White. Panelists discussed what "blackness" meant to them.
"Even here on this campus, I am told I'm not black enough," said White. "It's something that doesn't go away."
Growing up in a mixed-race household, Hurley had a confusing relationship with being black.
"We couldn't have black baby dolls, (but) people would fall over themselves about our hair," said Hurley.
Hurley also spoke to privilege within the black community.
"As a light-skinned person, I do have privilege," said Hurley.
Green shared a similar experience.
"I was confused as a kid (because my family) is a melting pot," said Green. "(But I realized) the color black has so much to it. It's all the colors in one."
This event became especially relevant as it was the day after the anniversary of Trayvon Martin's death, which was ignored by many in favor of arguing over the colors of a dress posted on Tumblr.
"The fact that a dress got more attention than Trayvon Martin on the day he was murdered three years ago is sickening," said Twitter user Amie Laster.
For Guilford as a whole, this symposium was a time for us to explore the culture of all blackness and bring attention to people like Martin as well as issues such as the economy in the black community.
"(We) are worth it," said Bedzigui. "(We) deserve everything."
About the Contributor
Nicole Zelniker, Editor-in-Chief
Senior

English major, Environmental Studies and Communication minors
Nicole loves newspapers, social justice and Harry Potter.