Maksym Kosachevskyy, Staff Writing

November 20, 2015
"Your mind is like an elephant," said Geshe Gelek Chodha. "It is very powerful and is always on the move." On Nov. 9, Chodha, a Tibetan Buddhist from Raleigh's Kadampa Center, gave a presentation on proper meditation at Joseph M. Bryan Jr. Auditorium. "Mindfulness is like a rope,"...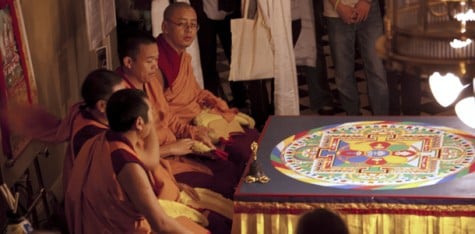 Emily Haaksma, Staff Writer

November 8, 2013
"Why are there monks in the Caf?" Guilford College's campus was abuzz with this question last week when serene men in traditional maroon robes were spotted by curious students. Six Tibetan Buddhist monks spent Oct. 28–31 constructing a sand mandala in the Dana Auditorium lobby. Before...