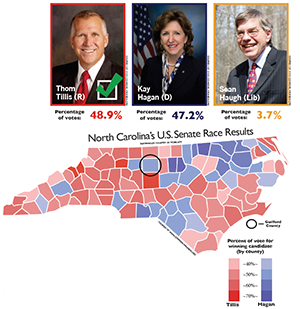 Clare Forrister, Staff Writer

November 14, 2014
In the midterm election on Nov. 4, local Senate candidate and Republican Thom Tillis ousted Democratic incumbent Kay Hagan and surpassed Libertarian candidate Sean Haugh. The Senate and House races were not the sole issues of the midterm election. Voters voted for Supreme Court justices, local sheriffs...
Amol Garg, Staff Writer

September 19, 2014
"What I see from the folks who are opposing our agenda is whining coming from losers," said Thomas "Thom" Tillis in an interview at his Raleigh office regarding the political environment. Recently, several Republican Senate candidates all across the country have temporarily changed their ...