"The World's a Little Blurry": An unfiltered look into the life of Billie Eilish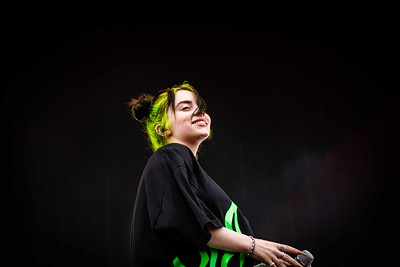 At the age of 13, she released her first song. At 17, her debut album was number one in 37 countries. At 18, she was nominated for six Grammys, of which she took home five. Currently 19, she just won her second Grammy for Record Of The Year.
Billie Eilish released her documentary "Billie Eilish: The World's a Little Blurry" last month, and it is easily one of the most revelatory musical documentaries released in a while. Compiled from home videos, interviews and moments on tour, the documentary gives a glimpse into what her life is like juggling global success with the struggles of being a teenager. It follows the writing and recording process of her debut album "When We All Fall Asleep, Where Do We Go?" as well as the events after the album's release. It doesn't tell her success story or follow her through a tour; it just answers the question, "Who is Billie Eilish?" This is a refreshing approach in comparison to so many other musical documentaries.
I applaud the combination of professional camera work and iPhone videos. From a viewer's perspective it demonstrated that Eilish was doing this just as much for herself as she was for the audience. The home videos provide a feeling of creating memories, and they break the fourth wall so many times that it brings the audience in closer. With the movie and the album, Eilish is creating an amazing career, and one day it will be so neat to look back on when she was just a kid in her brother's bedroom singing songs.
"The World's a Little Blurry" also explored the close relationship Eilish has with her family. Her brother, Finneas, is her best friend, co-writer and producer. If this alone did not give insight into her familial support within the movie's first five minutes, her parents' introduction does. There is an unforgettable moment after she returns home from an overwhelming weekend at Coachella where her fame is juxtaposed with the normalcy of her life outside the spotlight. Eilish is shown sitting on her couch singing along to Justin Bieber's "Fall" and her mother, Maggie Baird, comes and sits down next to her. Billie's face suddenly relaxes and her chin subtly quivers, revering her comfort.
"Are you guys okay?" Eilish yells out to the crowd. "You guys need to be okay, because y'all are the reason I'm okay. Okay?"
Being so young with the caliber of fame Eilish has, it's crucial to surround yourself with people who make you feel okay. She gets candid about this in her documentary; she goes to no lengths to try and hide her Tourettes or tic attacks and is incredibly open about her personal mental health struggles. This is something I personally have long admired about Eilish. Not only is she aware of mental health, but she is not afraid to talk about it, reminding her young audience that people go through stuff and it's okay.
"Why do we have to cope?" she asks her mom. "Why can't we just let it happen?"
There is a powerful moment where her mom is recording her while she and brother are demoing her song, "listen before i go." They play the line "Take me to the rooftop/ I want to see the world when I stop breathing." Her mom's worried "Are you seriously implying that you would jump off the roof?" is met with a subtle head nod, yes.
"It's something I want to say… saying it this way is better than doing it," Eilish says.
It's incredible the truth Eilish puts into her work. She shared many times that she writes and sings about the emotion she feels, what's going on inside her head, because why would she write something that wasn't true?
"Every single person in there, is going through something good or bad or horrible or amazing, you know?" she said. "And the least I can do is make art that I make because I have the same problems."
As if her age wasn't enough to make her relatable, her understanding and awareness of herself and others is profound.
"The World's a Little Blurry" tells Eilish's story in the best way. It's not scripted, there are no rules to follow, and that's honestly the only way to tell her story. Eilish's story is not uncommon, or her success unreachable.
She shared in her 2020 Grammys speech, "We made this album in a bedroom, in our house that we grew up in and it was mastered in somebody's living room, so it's really like anything is possible."
View Comments (1)