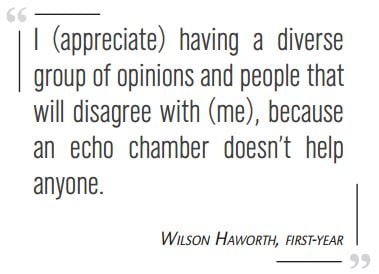 Political conversations are imperative.
"I think democracy depends on people talking to each other about politics," said Maria Rosales, associate professor of political science.
Rosales' point is a powerful one. Despite the democratic system in the United States, politics is usually considered a no-go topic for conversation. Americans avoid this subject matter because it has the possibility to create uncomfortable situations and rifts in relationships.
Ana Huckins, a first-year and sustainable food systems major, has differing political views to a close friend.
"We don't speak of politics ever, but we're still really good friends," said Huckins. "We can't talk about (politics) because we'd hate each other."
The strain of political discussions on relationships raises the question of whether political views should be a deciding factor in whether or not we remain friends with someone.
In some cases, conflicting political views can mean the difference between respecting human rights and promoting bigotry in the form of sexism, racism, homophobia and transphobia.
It can be difficult to continue a relationship with someone who believes that some people are not deserving of rights or opportunities because of their race, ethnicity, gender, sexual orientation or other such factor. However, some believe that it is best to put human relationships first and approach bigotry in politics from an understanding perspective or avoid discussing politics at all.
Rosales, who is in a same-sex relationship, sometimes experiences homophobia from her family.
"What (I do) is I try to protect the relationship while also continuing to tell my story to the degree that I can," said Rosales.
Kent Chabotar, president emeritus and professor of political science, says the impact of political difference depends on the type of difference.
"(Politics) should not be the deciding factor in a friendship unless either party chooses to make it a break up issue or one person's politics involve racism, income inequality, gender bias and just plain refusal to listen to facts," Chabotar said in an email interview.
Additionally, Chabotar says politics have their time and place.
"I avoid politics in social settings as it tends to cause unnecessary stress and divert from the fun focus of the event," Chabotar said.
While the logic behind this claim is reasonable, the national aversion to political debate and discussion during social interaction prevents the exchange of ideas between both similar- and different-minded people.
The benefits of thoughtful political conversation are numerous. From political discussion, you can learn more about an opposing point of view and gain a better understanding of the human side of that viewpoint.
A new way of looking at an issue can also be refreshing.
"I (appreciate) having a diverse group of opinions and people that will disagree with (me) because an echo chamber doesn't help anyone," said Wilson Haworth, a first-year and political science major.
That's not to say that having the same opinion as someone else can't be beneficial. While two people may have the same general viewpoint, they each have different experiences and ideas to bring to the table.
By discussing politics with someone you already agree with, you can strengthen your argument and thus become more informed.
"It's easy to not talk about politics … but especially here at Guilford, we're kind of geared towards and taught … to be the change we want to see in the world." said Robert Neff-Taylor, a sophomore and political science and psychology major.
Political discussion is a learning process. Whenever you ask for a friend's opinion, you are building a repertoire of arguments and ideas that you can use to back up or challenge your own point of view.
And while confronting bigoted political ideas may be difficult and uncomfortable, it is an important part of educating others and working past your own prejudices.
In the sphere of politics, don't be afraid to speak up.