Core Values: Justice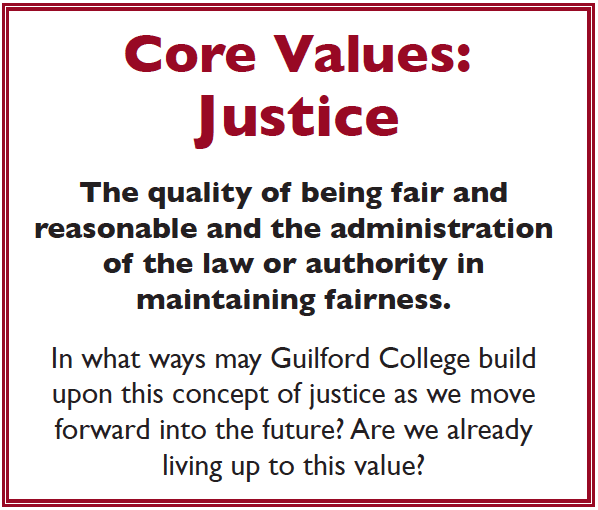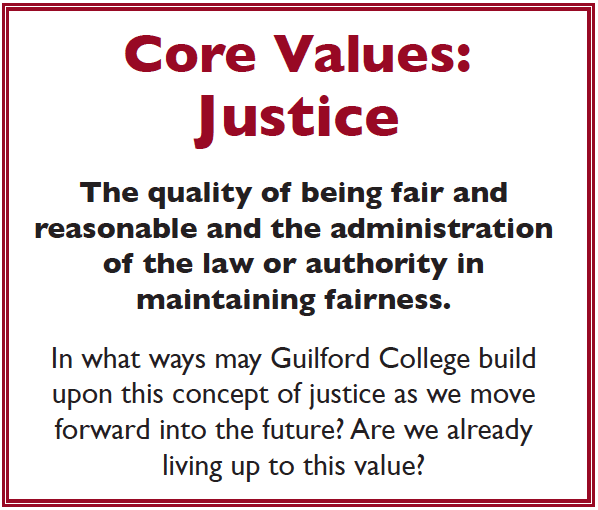 "The judicial process at Guilford can be a healing process, part of the transformative education that Guilford College is known for. The school takes great pains to balance the Quaker principles with the requirements of an institution of higher education.
"The College also supports organizations for conflict resolution … Justice at Guilford is a rehabilitation process, not an incarceration process. It shows our commitment as a community to take care of each member."
— Jessica Hilliard, CCE SGA board member and CCE representative to Presidential Search Committee
"Guilford College shows its core value of justice in many ways, ranging from the honor code to the repeated work students and staff do to make the judicial code as fair and
effective as possible.
"The College does a good job, in my view, of encouraging justice through the incorporation of principled problem solving in the curriculum.
"The main opportunity for increased justice that I see is to increase the consistency with which justice is considered in decision-making."
— Maria Rosales, associate professor of political science
"Social justice is a very important part of the Guilford experience. I think we could improve by bringing students towards social action beyond the borders of our school …
"Applying the skills we learn often only happens on campus. Therefore, the scope of the college is smaller than it could be. But, if we were to reach out to the community, then our message would reach a broader audience and we could make impactful change before we graduate."
—Sarah Welch '13
"(Justice) is more than adjudicating the bylaws. It is incorporating the community into the processes that guide us. I would like to see both the collaboration between the (CCE) SGA and Student Senate continue and hope that they can work to bring the community onto campus for events. That would help with admission and graduation. It would allow Guilford to no longer be seen as a small private school on the edge of Greensboro and as the bastion of free thought and participation we pride ourselves as being."
— Associate Vice President and Dean for Continuing Education Rita Serotkin

Hang on for a minute...we're trying to find some more stories you might like.