Hege library undergoes innovations, improvements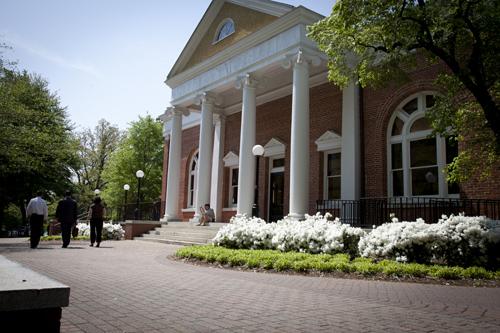 These are the words that adorn the first floor of Hege Library and that have guided its strategic reimagining as the "Academic Commons."
"The Academic Commons' vision calls for bringing folks together … to support student learning … and innovations in pedagogy," said Director of Hege Library and Learning Technologies Suzanne Bartels. "We can say the Hege Library is the Academic Commons now because we have brought all of our partners together."
In recent years, the Hege Library has maintained a traditional catalogue of books, periodicals, reference materials and digital resources. In addition, several departments like the Friends Historical Collection, the Art Gallery, the Learning Commons and Disability Resources call the building home.
Now, a few new partners have offices inside Hege Library: the Honors Program, Research and Creative Endeavors, Faculty Development and the Office of Institutional Research and Effectiveness.
A revamp of library services has accompanied these additions.
"We've reorganized the library, most notably the Research and Educational Services team, to work in collaboration with our new partners in a new kind of learning environment that combines library and technology services," said Bartels.
Research and Educational Services is spearheaded by Tamika Davis, digital pedagogy and scholarship technologist. Rachel Sanders, instructional design and assessment librarian, and Tierney Steelberg, instructional technology librarian, round out the triumvirate assembled to aid student and faculty development.
In the last few weeks, the team has held technology workshops on topics like Microsoft Word and Google Calendar in the Betty Place Classroom.
Staff and administrative reshuffling was only a slice of what occurred in Hege Library this summer. Plans to renew or reinvent study spaces were also carried out.
On the second floor, there is the Teaching, Learning and Research Collaboratory, which, when finished in late September, will feature a variety of furniture and technology configurations. Half of the space is aptly designed for collaboration, while the other half will serve as an experimental classroom.
Elsewhere on the second floor, there are new study carrels in Hayden's Nook and reupholstered furniture.
A refurbished 1941 Steinway baby grand piano sits downstairs in the Carnegie Room.
"Now, the music department has a lovely chamber venue," said Bartels.
In the basement, there is shelving dedicated to archive, microfilm and rarely-used book collections. Access to these materials is still available at the front desk.
"I was here this summer and saw a lot of changes with furniture," said senior Jeannine Harrell, a resident advisor and part-time library assistant.
Harrell is excited about the variety of spaces now available in the library and believes there is more change to come.
"I would say in the next five years, (the library will) be totally different than it is now," said Harrell.
Not every student chooses to study at Hege Library, however.
"(The library is) far away, and it's out of the way too," said sophomore Brittany Dow.
Instead of trekking across campus to a single building, Dow wants to see more residential study spaces scattered around campus.
"It would make sense to have designated study spaces in each dorm with a ton of beanbag chairs," said Dow.
In the future, Bartels explained, developments in the Collaboratory may find their way to classrooms and residence halls.
"We hope that what we can accomplish in this new space will inform decisions that we make across the campus for the improvement of learning environments in general," said Bartels.
Thus far, donor funding from H. Curt '56 and Pat Hege '57 and grants from The Andrew W. Mellon Foundation and the Institute of Museum and Library Services have principally paid for the creation of the Academic Commons.
On the horizon, Bartels said underutilized portions of the lower level in Hege are due for a facelift.
One possibility is the creation of a "makerspace," an area where students can experiment with sewing machines, metalworking tools and even high-tech toys like 3D printers.
If constructed, Hege Library would follow examples set at North Carolina State University, the University of North Carolina at Chapel Hill and local nonprofit Forge Greensboro.
Despite current and future changes, books will remain in circulation.
"Learning is experiential," said Bartels. "We want to build a collection that's vibrant and helps students realize that information comes in many formats. Print formats certainly are a viable format."
About the Contributor
Ian Penny, World & Nation Editor
Senior
Economics and German studies double major, Writing minor
Ian enjoys simple things like Cook Out quesadillas with Reese's Cup milkshakes. When...