Flames of battle: The bonfire debate rages on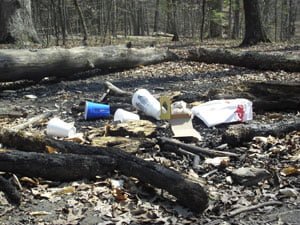 Though the bonfire pits saw few flames this year due to the recent crackdown on student use of the woods, the debate about them roars on.
Because each side's argument is so multifaceted, it has been difficult to get a clear, comprehensive view of the issue. Here, each side will respond to each other.
First, the administration will respond to pro-bonfire students.
More pressing dangers on campus not being addressed: The rash of alcohol poisonings in Milner that happened earlier this year indicate that most of the dangerous behavior is happening in the residence halls, not the woods. The administration is focusing on the wrong areas in order to keep us safe.
"Let me first say that the number of alcohol poisonings is greatly exaggerated," said Dean of Students Aaron Fetrow. "I can't talk about specific cases but at least two or maybe three of the ambulance trips that students saw had nothing to do with alcohol. That is very much in line with what it is every year. It happened this year that they were both at Milner. So what was our response? We beefed up a lot of programming in Milner. And we've beefed up RA presence and safety presence in Milner because of it."
Bonfires build community: Bonfires were the only times when athletes, non-athletes and students from different classes came together and united as a community.
"Guilford exists in a MUCH larger community," said Maia Dery, instructor of art & experiential learning in an email interview. "This issue is not just about the students and the administration. We have neighbors who can hear and see the fires. We have a city fire department. We have woods that predated all of us and that we are responsible for stewarding."
"Community is being used in kind of a myopic way that's very self-serving," said Fetrow. "But I do want some of the side effects of these bonfires. I don't disagree with that. There are really good aspects of this argument."
"If the community that's built around bonfires is so strong and so positive and involving the athletes and non-athletes and bonfires have been going on for years, then why is there still so much division?" said Stowe.
The line between what's safe and what's dangerous is arbitrary: Drinking out in the woods is no more dangerous than drinking in a residence hall. Having forts in the woods that people climb on is no less safe than having a large fort-like art installation in the middle of campus.
"The stick sculpture in the middle of campus wasn't designed or intended for people to be climbing on and over and that kind of thing," said Ron Stowe, director of Public Safety. "Its location would tend … to hinder the kinds of things that we are afraid of like when it's isolated in the woods. … Somebody that's intent on harming somebody isn't likely to be hanging out in the center of campus waiting on them to come.
"Students or community members or people from outside are not likely to come to the sculpture in the center of campus in the wide open quad and drink beer, smoke weed or do whatever else they're going to do. The chances of someone falling off the sculpture and laying there for three days without anyone finding them is not really likely."
Banning bonfires encourages drunk driving: If there aren't parties on campus, students will be more likely to drive off campus, drink and drive back.
"This is the oldest argument in the book and it's as irrational as it gets," said Fetrow. "So the argument goes, 'Because you won't let us get drunk in the woods we have to drive.' Like I'm putting the keys (in your hand) and saying, 'Okay now you go drunk drive.' You're still making the choice to drink and drive."
The administration is only concerned about their legal safety: They are only stopping bonfires and tearing down the forts because they are a legal danger, not because they are actually concerned about our safety.
"I understand how it might be easy for someone to say, 'all you're worried about is liability'," said Stowe. "And while it's true that we are certainly worried about that, it's not all we're worried about. Even if there's no liability at all, even if it never cost the college or me a dime, I don't want a student being hurt on campus. I don't want to live with that. I don't want to be the one to make a phone call to Campus Life and say, somebody needs to call the parents and say this has happened."
Now, the arguments of the administration, followed by responses from pro-bonfire students.
Bonfires lead to trash and mistreatment of the woods: The beer cans and other litter left around the forts and bonfire pits are clearly a mistreatment of the woods.
"There's trash everywhere in the woods," said Dobbins. "That slope behind the Old Apartments is very trashy too. I did the woods cleanup and it's gross. It's not just the fire pits."
"When they were organized by large groups of students and students weren't afraid to go out there, we always came back the day after and cleaned up," said junior Grace Chafin. "It's something that's worth it to us. And we love the woods. It's why we want to be out there. We want to take care of it."
Students are downplaying the dangers of the woods: If someone is injured from falling off one of the student-made forts that were torn down earlier this year, is assaulted or even burned in the fire, help cannot easily make its way to them and they might not be found for days.
"The reason I wrote the letter is I felt the administration was playing up the dangers of the woods so much," said sophomore Will Dobbins, who wrote a letter to the editor about the woods debate. "I was very surprised that the administration was willing to claim that sexual assault was the reason they were cutting down on bonfires when there's no history of sexual assault that we know of."
"We're adults," said senior Shanon Rule. "There's a lot of stuff that's not safe that we do anyways. So who are they to dictate what's safe … and what's not safe?"
Unpermitted bonfires are illegal: How is the administration supposed to ignore a clearly illegal activity happening on campus?
"We're a private school," said senior Sarah Meteyer. "And so, if they decide that bonfires are okay, then I'm pretty sure that it's okay. They were okay last year and the year before and many decades before that. It's not like the administration has been unaware of what's been happening for so many years."
"You don't see them knocking on every door that they hear a pong ball in because underage drinking is illegal," said Rule. "There's a lot of things that aren't technically legal that they let us get away with because they know it's part of the college experience and they know people are going to do it whether or not they try and enforce it. It feels like they used to treat us like adults and now they're treating us like children."
With such diverging opinions between the pro-bonfire side and the anti-bonfire side, it might seem like compromise is not in the cards. However, if both sides are willing to listen to each other and consider the value in the other side's arguments, maybe we can meet somewhere in the middle.
"Is there a way to have supervised fires?" said Fetrow. "I'm open to thinking about that."

Hang on for a minute...we're trying to find some more stories you might like.