It's the scary season!
Make it a spooky good time with costumes and in-person fun.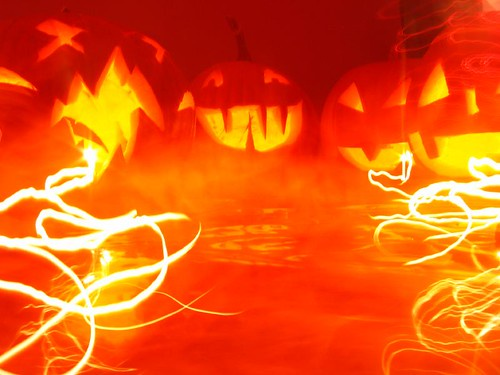 It's spooky season, and Guilford students are ready to celebrate. Pumpkin spices, candy and scary movies are all the rage right now, and streaming platform Hulu even has its own section dedicated to Halloween entertainment.
Netflix's new trending show "Squid Games" is a great watch to get yourself in the spooky spirit. The show revolves around 'games' played to keep people alive. 
Trending couples costumes include Harley Quinn and the Joker, and Sharkboy and Lavagirl, but Guilford students have some fun alternatives. Hunter Neal, a basketball player and sports business major, wants to dress up with his girlfriend as the two main characters in "Grease," Danny and Sandy. 
There's also a tremendous amount of group costume ideas out there. Ninja Turtles, the Mean Girls, Power Rangers and superheroes are some great options. If you are planning on dressing up for Halloween with a friend, some good duo costume ideas are the moon and the sun, yin and yang and characters from movies and television shows, like Velma and Daphne from "Scooby-Doo." Some simpler ideas can be getting matching masks, hats or wigs at a costume store, such as Party City or Spirit Halloween, and having each person wear a different color. 
Guilford senior Sophie Gray says that she and her friends thought about dressing up as a group of Pink Ladies, from the musical "Grease", for Halloween. Bea Niblizi, another Quaker senior, says she wants to dress up as the Powerpuff Girls with her friends this year. 
Once you have your costume figured out, there are plenty of places to go and celebrate this scary season. Around Greensboro, some fun Halloween-themed attractions are SpookyWoods, Woods of Terror and Scarowinds, which are all nearby. SpookyWoods is a haunted house attraction in Kersey Valley, Woods of Terror is a haunted trail and theme park in Greensboro and Scarowinds is a Halloween-themed event at Charlotte-based amusement park Carowinds. 
Pumpkin carving, costume making, picture/T-shirt decorating and spooky Halloween games are all good activities for a Halloween party this year. There are plenty of pumpkin carving ideas, including your initials with your partner's, your favorite animal, a bat, a witch, a piece of candy corn and a scary face. 
If you are looking forward to Halloween this year, go ahead and start planning with your friends and family about what costumes you'll choose! No matter how you celebrate, this year  offers many more opportunities for fun, with more in-person events and activities to bring friends and family together. 
Leave a Comment