Polish-Russian relations growing stronger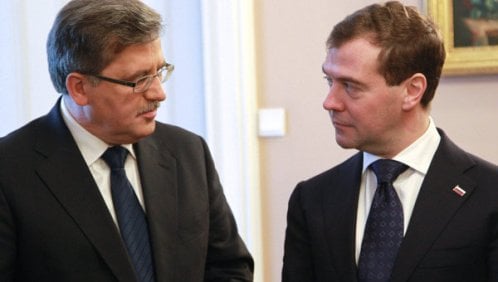 One plane crash. 96 deaths. Two countries. One dispute.
A year ago, on April 10, 2010, a Polish Air Force plane crashed near Smolensk, Russia. On board was the then-president, Lech Kaczyński, his wife, and various government officials. The plane crashed in a ravine less than a mile away from Smolensk, reported the San Francisco Examiner.
"The presence of this ravine can have a natural influence on the readings of the radio altimeter," said Alexei Morozov, head of the technical commission of Russia's Interstate Aviation Committee to the San Francisco Examiner.
Times Magazine detailed that Kaczyński had been en route to Russia to commemorate the Poles that were executed on Josef Stalin's orders. The day Kaczyński flew to Poland was noted to have been a historic day, in that the strained Polish-Russian relations would have been resolved.
Poland and Russia have experienced a strained relationship since 1989, when Poland successfully overthrew communism in their country. The pact Soviet Russia had with Nazi Germany during World War II did not help the relations between Poland and Russia. In the beginning of 2010, however, the bond between the two countries began to strengthen as Poland approved a gas deal with Russia, Reuters reported.
Now, a memorial has been erected to honor those lost in the crash, according to The Christian Science Monitor. However, debates erupted over the plaque because it was written without a Russian translation, despite the fact that the site resides where the crash took place in Russia. The Christian Science Monitor explained that Russians were insulted that their language was not acknowledged, seeing as the crash took place in their country.
Despite these debates, Russian president Dmitry Medvedev and Polish president Bronislaw Komorowski have agreed to continue "on the path of reconciliation," according to The Christian Science Monitor.
In the spot of the tragic accident lies a plaque bearing this message:
"In memory of 96 Poles led by the president of the Republic of Poland, Lech Kaczyński, who died in a plane crash near Smolensk on April 10, 2010."
Leave a Comment