Hanging in the balance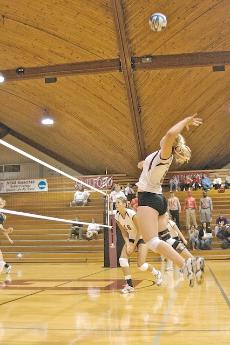 The high-flying Quaker volleyball team hosted Roanoke College this past Friday in their final conference match. Stakes were high as a win would have given Guilford an instant bid to the eight-team Old Dominion Athletic Conference (ODAC) tournament.Adding to the atmosphere, this was Guilford's "Dig for the Cure" match. The women wore pink hair ribbons in an effort to elevate breast cancer awareness. For each dig, a donation was made for the benefit of the Susan G. Komen Foundation.
Following a tough first set, Guilford bounced back strong in the second, claiming six of the first seven points. As the set wore on, the Maroons climbed the score-sheet to a seven-point lead.
First-year Mary Moody ignited the Quakers by serving eight straight crucial points. Sensing the Quakers' fire, the Maroons coach Blair Trail called a critical time-out. Upon resuming play, Roanoke stole three quick points to extinguish the Quakers' hot run and barely seizing the second set.
Under pressure and now behind two to none, the lady Quakes crafted their finest set of the night. Capitalizing on several Roanoke errors, sophomore co-captain Anna Miller and senior Shanika Tunnell's strong serves helped Guilford to a lead. Points began to trade back-and-forth until Miller and Tunnell combined for a timely block to win the third set 25-23.
Unfortunately the Maroons overpowered the Quakers in the final set thereby improving their overall record to a conference-best 23-3.
But although a tournament berth for the Quakers is not secure, their chances still look good.
"If Randolph College loses to the higher seed Virginia Wesleyan, we would stay in a two-way tie with them. Since we beat Randolph head-to-head we have the upper-hand right now," explained Gann.
Possibly adding to the confusion, a Sweet Briar College win would place them into a three-way tie with Guilford and Randolph.
"If Sweet Briar wins, it will go down to the third tie-breaker, which was decided a long time ago," said Gann. "Back in May every team pulled a number out of a hat; thankfully Tom Palombo pulled number one for us."
With all of their conference games played, the ladies can only hope to make the ODAC tournament.
If given the chance, Miller is confident they will get an upset as the number eight seed.
"When we played Randolph-Macon (23-7, 9-0 in ODAC) earlier this season we only lost by three points in the 5th set. We are right there. When we are on and playing like a team, we can beat any team in this conference," said Miller regarding a potential rematch with current one-seed Randolph-Macon.
As this season is coming to a close and the youthful Quaker team waits for their tournament news, the prospect for 2009's team looks bright.
"We are definitely going to be one of the teams to look out for next season. We have a lot of returning players and we are only losing one senior next year," said sophomore Courtney Kozar.
Asserting that several of her young players have stepped up and filled major roles on the team, Gann is noticeably thrilled with the leaps the team has made this year.
"I try not to look to next season until this one is finished, but of course seeing them grow so much this season has got me really excited for next season."
The team's last two season games are home on Oct. 30 against Ferrum and Oct. 31 versus Salem. With a little luck, these two matches will not be their last.
Leave a Comment