Tony Campolo speaks for Religious Emphasis Week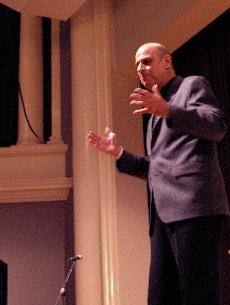 "In the Bible, Jesus doesn't deal with abortions or homosexuality," said visiting sociologist and American Baptist preacher, Tony Campolo. "But he does deal with poverty – over 2,000 times. Jesus talked about poverty more than he talked about anything else." Campolo came to speak at Dana Auditorium on Jan. 22, kicking off the 17th annual Religious Emphasis Week.
Campolo is a Philadelphia-based liberal evangelical Christian; author of 33 books; extensive social outreach organizer; and a frequent guest on such television shows as The Charlie Rose Show, Nightline, and The Colbert Report.
According to The Progressive, a left-wing, pacifist monthly magazine, Campolo used to begin his speeches with:
"I have three things I'd like to say today. First, while you were sleeping last night, 30,000 kids died of starvation or diseases related to malnutrition. Second, most of you don't give a s–t. What's worse is that you're more upset with the fact that I said s–t than the fact that 30,000 kids died last night."
In his speech, Campolo addressed issues ranging from abortion and homosexuality to the Middle East conflict and urban poverty in America. He quoted famed figures from George Bernard Shaw to Chris Rock to illustrate his points.
"He is funny, bombastic and loud. He is a South Philly kind of guy, right out of central casting for 'Rocky,'" said campus ministry coordinator, Max Carter, who first met Campolo in the '80s. "He steps on everyone's toes equally, and while he is very biblically focused, his social agenda is more radical than most of the students here. He will make people reassess their judgments of evangelical Christians."
"I thought it was interesting to hear someone who I didn't agree with on a lot of things but was still able to find common ground with," said co-clerk of The Quaker Leadership Scholars Program (QLSP), senior Ruth Murray. "It gave me hope for evangelicals."
Campolo gave a diatribe against meshing politics and religion before launching into a lengthy analysis of the Israel-Palestine issue, the Iraq War, and evangelical arrogance.
"I believe the Bible; I have all the doctrines and faiths of an evangelical, but I don't like the word anymore. The word evangelical has become a byword for anti-women, anti-gay, anti-environment, pro-war, pro-gun," said Campolo. "That's not who I am. When Jesus said 'love your enemies' I think he meant don't kill them. How can you love a god you can't see but not love a brother who you can?"
"He was a wonderful speaker who had a way of dissecting tough issues in a way that didn't polarize his audience," said senior Jesse Seitel, co-clerk of QLSP. "I think that people from both left and right could learn from his use of language and find solutions too many of our problems. And this is coming from someone who didn't agree with a lot of what he said."
Campolo went on to say George Bush should go before the United Nations, admit that he was wrong about Iraq, and ask the world for forgiveness – for both himself and the American people.
"The beginning of hope for the future is the repentance for the sins of the past," Campolo said. "Without repentance there can be no reconciliation. If we are going to deal with people we don't understand we can't go at it from this militaristic, totalitarian mindset."
Campolo is the founder and president of the Evangelical Association for the Promotion of Education (EAPE). EAPE is designed to serve inner city schools in the United States, immigrant communities in Canada, AIDS hospices and other types of Christian outreach programs in developing countries including Haiti and Zimbabwe.
He ended his speech with an appeal to the young people in the room to devote their lives, or at least a summer, to helping the poor in the inner cities of America.
"You don't have to go to the third world, to go to the third world anymore. It is right here in our own backyard," Campolo said. And I guarantee you this: if you go and spend a year amongst the poor and oppressed of America you will come away with a clear definition of what you want to do with the rest of your life.
Leave a Comment