Guilford students march at first annual Youth AIDS Day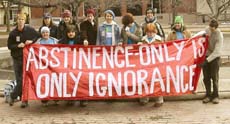 As part of the first annual Youth AIDS Day, 3,000 students from 120 schools across the United States marched the capitol on Feb. 26, demanding funding to combat the global AIDS pandemic. Simultaneous events were held in countries around the world, including Bangladesh, Egypt, Sudan and Uganda. "Youth AIDS Day is an opportunity for youth around the globe to unite in solidarity against a disease that deeply affects us all," said David Suk, head of Canada's chapter of the Global Youth Coalition on AIDS in the Coalition's press statement.
Since more than half of the five million infected with HIV each year are under 24, the event organizers aimed to attract both college and high school students.
"Our generation is suffering from a crisis that infects 8,000 young people under age 25 everyday due to a lack of commitment from political leaders like President Bush," said Luther College student Anna Bergdall in a press release issued by the Global Youth Coalition on HIV/AIDS.
The march began as a rally in Lafayette Park with speakers ranging from '60s civil rights campaigner Bernice Johnson Reagan to Eric Sawyer, co-founder of ACT UP New York – a group "committed to direct action to end the AIDS crisis."
Each speaker stressed the global impact of AIDS. Every day 15,000 people are diagnosed with AIDS, while 8,200 die.
Marchers summarized their demands by chanting: "Fund the fight. Treat the people. Drop the debt. Stop the spread," calling for the reauthorization of the Ryan White CARE Act, passage of the REAL and JUBILEE Acts, and the contribution of $1.5 billion for the Global Fund to Fight AIDS.
Based on "science not politics," the REAL Act demands that sex education stress the importance of both safe sex with contraceptives as well as abstinence.
The Ryan White CARE Act gives monetary support for HIV prevention and access to AIDS medication in inner city areas where treatment is limited. Ryan White was a 13-year-old boy who contracted the disease through a blood transfusion; after his diagnosis, he fought against the prejudices of the school board for his right to attend public school.
The Global Fund works with countries in Asia, Africa and South America to fight AIDS, tuberculosis and malaria. To date, the Global Fund has contributed $3 billion to fight these epidemics.
The JUBILEE Act calls for the cancellation of debts in Third World countries heavily hit by the epidemic. "Coun-tries are often forced to pay off their debt and restructure their economy at the expense of their health care and social services," said sophomore and Guilford College AIDS Fellow Erin Burns.
"I consider the march successful in that it showed AIDS is still a pertinent global issue," said Burns, a member of the Student Global AIDS Campaign (SGAC). "At the same time we can't stop with just a march."
"It definitely helped raise awareness, but I wish there were more people," said sophomore Ted Wilkinson, PRIDE vice-president. "I also wish that it had gotten more coverage in the national media. I heard that there was some coverage on local news, but there was nothing on any national station, despite the fact that it was the largest student-run march in history and the largest AIDS march in ten years."
"This is just the beginning of an explosion in student and youth mobilization – one that will force our nation's and our world's leaders to take immediate action to stop this pandemic," said Healy Thompson, National Coordinator of the SGAC in the press release. "We will be the generation that sees an end to AIDS.
Leave a Comment