Foreign Languages department hosts Mardi Gras party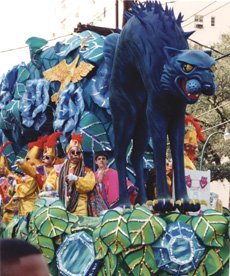 "It was vivacious. There were floats, parades, scantily clad people. Instead of throwing candy and beads, they were throwing condoms from the floats," said Steffany Drozo, Assistant Professor of Foreign Languages, of the 1993 Mardi Gras in Barcelona, Spain. "We've actually kept it quite tame in the Boren Lounge." The Mardi Gras party, thrown by the Foreign Languages department on Feb. 8, avoided those "carnal" implications of Carnival. Rather than drunken debauchery, students milled around wearing masks and beads, listening to music, and gobbling fried pastries.
Visiting Assistant Professor of Foreign Languages Maria Bobroff started Guilford's Mardi Gras party to bring students together during the gloomy winter, and make them aware of French traditions.
Mardi Gras, also known as Carnivale, is the "Fat Tuesday" before the Catholic Church's Ash Wednesday. Celebrants give up rich foods, meat, or alcohol during Lent, so Mardi Gras is a fling to use up these ingredients.
Carnival began in European countries with a long Catholic history such as Spain, Italy, and France, and then spread through their colonial rule. Cities worldwide now celebrate with hordes of people in the street, music, dancing, and parades.
Bobroff says that French children celebrate Mardi Gras by eating crˆpes and beignets, and by throwing flour and eggs at their friends and teachers.
"At the end of the school day all of the teachers, myself included, huddled in the teacher's lounge, afraid to walk outside for fear of being pelted by raw eggs," Bobroff said in an email. "We kept peering out the window to see how many children were still waiting for us, and more importantly, how their ammunition was holding up."
Associate Professor of Spanish Sylvia Trelles and Associate Professor of Foreign Languages & Division Director Dave Limburg brought their knowledge of Europe, South America, and the Caribbean to this celebration.
Trelles presented the Spanish tradition of carrying a sardine in a small casket, followed by a trail of mourning women.
Limburg and Vice President for Finance & Administration Jerry Boothby volunteered to have their ties cut off in a German prank that pokes fun at dignitaries.
One part of the French tradition is the King Cake, a cake with a small plastic baby baked inside. Whoever finds the trinket is King or Queen of Mardi Gras. Early College student Trae Middlebrooks was crowned king.
Middlebrooks, asked if he expected any special treatment from the college as the reigning king of Mardi Gras, said: "Well, of course. I couldn't even stay the whole time because I had to go to class, but that doesn't mean I'm abdicating my throne. Maybe some food."
Expected attendance was 100 students, and almost twice that number attended. Most traditional students came after dinner, with CCE students arriving after 8 p.m. The food was gone by 7:45.
It was easier to obtain beads in Boren Lounge than in New Orleans, with over 170 strands distributed without any nudity.
Leave a Comment