Community Senate update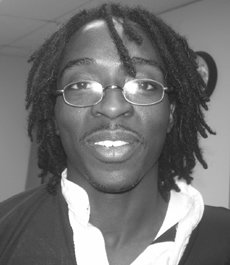 Perseverance is the hard work you do after you get tired of doing the hard work you already did. – N. Gingrich
I want to thank all those who attended this week's Senate meeting. I also want to thank President Kent Chabotar for sharing with us updates about the Strategic Long Range Plan.
For those who were unable to make the meeting, you are welcome to look over the meeting minutes, which are posted on the Senate board (located in the stairwell closest to the Cafeteria).
The evening was in large part a success, as students were able to here some of the details and highlights of "the Plan," as well as a brief history as to how we got to where we are.
After the presentation by Kent we took questions from the audience as well as answered some of the pre-submitted questions from last week, among them was the question of integrity, both as a institution and as a community.
One of our core values, it is a theme that arises often in conversations about the state of the college.
Inherent in our school's Quaker heritage, the truth and integrity testimony is one of the most valued of our Quaker traditions. As such it is an essential part of our communal structure, with out truth, without integrity, a community can not foster any kind of cohesion.
Community Senate is charged with representing and upholding the opinions and best interests of the traditional aged student body. In doing so it is expected, as it is expected of all our community members, that we uphold a level of truth, honesty and forthrightness that is exemplary of the Guilford College community.
As a representative body, Senate is responsible to the students which it is charged to severe. Attending meetings, developing campaigns, administrating surveys, articles in The Guilfordian, Senate in the caf, by using any and every means with in reason your elected senators work to incorporate the values and ideas of the traditional student body into the everyday practices of the college.
Last week we ran an update of several of the current Senate projects, each of which ask two questions, is it feasible and how will it better our student body?
The question that we continue to ask is, how can we better serve students? To maintain the integrity and honesty of our charge we ask your help in keeping up with that constantly changing answer.
So, for those who have time, drop in on a meeting, leave a message in the suggest box, come to open office hours, Be a part of the decision that are designed to be in your best interest.
This week marked the opening of the elections season. Ticket submissions for 2005-2006 Senate and Union executive positions are now being taken at the Information Desk in Founders, and at the Circulation Desk in the Library.
Take interest in who will be charged with representing you for the next academic year.
If you have any question pertaining to elections please forward them to Laura Wigand (Vice President and elections committee chair) at [email protected] or to [email protected]
Leave a Comment