Reverse Hurricane hits Greensboro: Kudzu Wish releases new album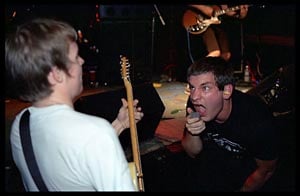 The same weekend Hurricane Isabel hits the East Coast, Reverse Hurricane will take Greensboro by storm.
"It's anthemic, balls-out rock'n'roll," said senior Erin Kauffman, General Manager of WQFS. "It makes me want to throw my fist in the air and sing along."
Welcome to Kudzu Wish, one of the best bands ever born at Guilford.
The group released their new album, Reverse Hurricane, last Tuesday. Kudzu, along with bands Sullivan and Sentinal, will celebrate tomorrow with a show at Ace's Basement.
We have reason to celebrate with them. Kudzu Wish is Guilford to the core.
"We began here and were nurtured here and sent out in the world," said bassist Tim Lafollette, who now works as Guilford's Multimedia Service Technician. "Guilford was the something parent of the band-maybe the surrogate mother. We've found an unlimited supply of support from Guilford. It is our roots."
Kudzu Wish started in 1998 in a suite in Bryan Hall. All five members are Guilford graduates.
The band's 1998 incarnation had four members: Geordie Woods, drums; Tim Lafollette, bass; Eric Mann, guitar; and Devender Sellars, guitar and lead vocals. They played 30 to 40 shows that year and took the next year off. In 2000, Adam Thorne joined the band.
"The first practice was in Geordie's room," said Lafollette. "Adam actually wasn't a part of it then. Devender, since his freshman year, had been trying to put together something. So he finally found people he wanted to play with. I think Devender had a vision of what he wanted it to sound like but none of the rest of us did. But we clicked pretty fast.
"Senior year, it started up again, this time with Adam on vocals," continued Lafollette. "In reality, the first year was kind of a warm-up and when Adam joined, it became the real thing."
The lineup isn't the band's only change. Their sound has evolved too.
"Before, it was more obvious what they were trying to do," said senior Matt Shelton. "Now they're more dynamic. They've got a lot of contrasts – the whole loud-soft, hard-quiet thing – but they blend it really well. They're treading that line between the whole really loud, really passionate thing and this really quiet, pensive and reserved thing."
"When we first started out, we had no parts that repeated ever," Lafollette said. "It was a little too like an urban sprawl. We had good ideas but the songwriting itself was lacking because we didn't have any direction. After version 2.0 with Adam, we were more intentional."
The group recorded two albums before this: the five-song Dogminutes, and At the Scene of the Accident, a split CD with Greensboro-based Disband. Reverse Hurricane, Kudzu's first full-length release, was produced by Polyphonic Audio in Chapel Hill, N.C. and is on the Ernest Jenning Record Co. label.
This album is getting attention like the hurricane it is.
"The recording is more cohesive and embellished than past efforts, and the group is a tighter-sounding unit than ever before," said an anonymous reviewer on ernestjenning.com. "With Reverse Hurricane Kudzu Wish have captured their animated live sound, and this storm makes El Ni¤o look like a whiney toddler."
Senior Ted Fetter agreed. "They have such a charged sound. You have to sing along. And if you're there watching them, you have to dance along. There's too much energy to ignore. Kudzu Wish cannot be ignored. They will rock your face off."
The CD release party will be 9 p.m. on Saturday, Sept. 20 at Ace's Basement, located at 2428 High Point Rd. In Lafollette's words, "The music shall be good. The beer shall be cheap.
Leave a Comment