Workplace violence increases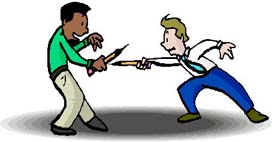 CHICAGO – A disgruntled ex-worker at Windy City Core Supply, Inc., went on a shooting rampage August 27, killing six people. Salvador Tapia, 36, was fired more than six months ago because of tardiness, skipping shifts, and causing trouble, police said.
Chicago police rushed to the auto-parts warehouse, and after a lengthy chase inside and outside of the building, cornered Tapia. When he refused to drop his gun, police shot and killed the gunman.
According to eye-witness accounts, Tapia charged into the South Chicago warehouse with a handgun and tied one worker's hands behind his back. He then calmly walked through the warehouse shooting people. One worker ran to a nearby restaurant and called the police.
Tapia had a lengthy record that included assault and gun possession without a permit.
This shooting comes on the heels of the most deadly month of workplace shootings in the nation's history. Chris McGrath, executive director of Handgun-Free America, an anti-handgun group headquartered in Washington, D.C., said: "According to our research, July of this year stands out as the most lethal month of workplace shootings ever. In that month alone, 22 people were killed, and 16 were injured in seven separate incidents."
The deadly month began July 2 in Jefferson City, Missouri, at Modine Manufacturing Corp. A week later another shooting took place in Marion, Mississippi. Other shootings included a Verizon Wireless employee shooting his boss, then killing himself in San Angelo, Texas, and a shooting on July 23 where Councilman James Davis was shot twice in the chest by a shooter in New York's City Hall.
Leave a Comment