Going, going, gone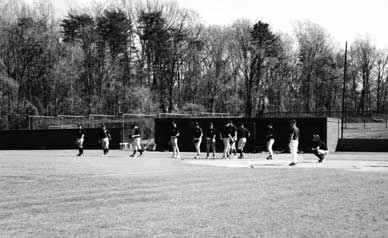 Without much fanfare, the Guilford College baseball team ended their season in Salem, Virginia. Even without all of the attention, however, the baseball team certainly had a season that can be described as "memorable." The Quakers ended the season with a total of 30 wins and 13 defeats. Even more impressive were their 12 wins and only four loses in ODAC Conference.
On the offensive side of the team, Zach Whicker and A.J. McCauley led the Quakers with .395 and .377 batting averages respectively. R.J. Marks crushed seven homeruns, and Brad Franklin drove in a team high 50 RBI's.
Joe Dooley dominated from the mound all season, compiling a 12-2 record with a very impressive 3.18 ERA. The other pitchers for the Quakers compiled a total record of 18-11, proving that a baseball team is only as good as its total parts.
The season started off rough for the Quakers. They lost three of their first four games. But showing the character it takes to win a conference championship, the Quakers steamrolled many of the teams unlucky enough to face them in the weeks following.
Particularly noteworthy was the Quakers outscoring of the United States Merchant Marine team, 29 to 10, in a two game series.
Guilford crushed Keuka, 21-3, and gave Roanoke a 24-2 .
Throughout the season, Guilford won many awards and accomplished much. Most notably, head coach Gene Baker saw his 300th victory this year in a 13-5 spanking of Greensboro College. Catcher R.J. Marks, outfielder A.J. McCauley, infielder Brad Franklin and pitcher Joe Dooley were all given ODAC Player of the Week awards.
Even though the team ended their season falling to Bridgewater in the ODAC tournament, there is no reason to despair about our baseball team.
While the team will have seven departing seniors, the future looks bright for Guilford baseball. As it was a strong season both in the field and at the plate, the team can use this season as a springboard into next year when it will almost certainly be a top contender for the ODAC Championship.
Leave a Comment