Astroworld Festival leaves ten dead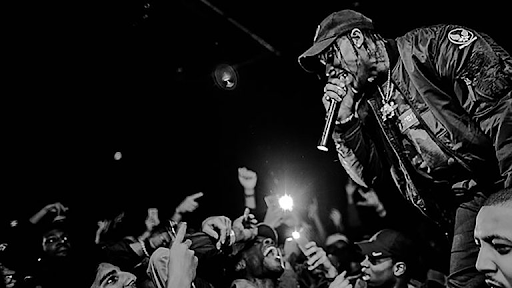 Travis Scott is a well-known and popular artist among young adults and teens, so it's no surprise that the Astroworld Festival in Houston, Texas, a musical event founded by the rapper, would be packed. 
In a catastrophic turn of events, nine people were killed at the festival on Nov. 5 after a large crowd surged toward the stage, where people were crushed against each other with no space to move or breathe. 
According to the New York Times, the event was sold out with 50,000 attendees. As Scott began the concert in the outdoor venue, the crowd moved toward the stage and concert attendees crushed each other. Concertgoers described the feeling of being suffocated, and some began to pass out, causing others to rampage and scream in terror as the concert started.
Travis Scott looked toward the crowd mid-performance, the New York Times reported. He saw the red and blue flashing lights of an ambulance. 
Reportedly, he addressed the crowd, saying, "If everybody (is) good, put a middle finger up in the sky."
The music then resumed. 
Isabella Moya Turecky, a first-year at Guilford, was asked if she thought that the deaths at the concert could have been prevented if Scott had paused his performance. 
"Maybe," Turecky responded. "Maybe not all nine of them would have been saved but some of them would still be alive today. He could have (taken) action to help those injured, and maybe, just maybe, (the nine) would still be alive.
"I believe having the crowd in sections, more division and not having everyone all together (could have helped)," Turecky said. "Maybe… lighting… could have helped, so people could know and see who were injured and who needed help."
First-year Noella Syrigos McGinn was asked if she thought Scott should do more than just pay for the funerals caused by his festival.
"Yes, I do think he should be doing more," McGinn responded. "He knew what was going on during his concert and he decided to keep performing for 40 minutes even as paramedics arrived and assisted people. I think (he should reimburse) the families affected…"
The New York Times provided information about each of the victims.
Bharti Shahani, 22, an electronics systems engineering student at Texas A&M University, passed away from injuries on Nov. 10. 
John Hilgert, 14, was the youngest victim of this unfortunate event. He was a freshman and baseball player at a high school in Houston. 
Brianna Rodriguez, 16, was a talented student at a high school in Texas. She was a dancer and a member of the school's band. 
Jacob Jurinek, 20, studied art and media at Southern Illinois University. He traveled to Astroworld to celebrate his 21st birthday with another victim, Franco Patiño. 
Franco Patiño, 21, studied biomedical engineering at the University of Dayton in Ohio. He was also a member of a Hispanic-interest fraternity and of the Society of Hispanic Professional Engineers. 
Axel Acosta, 21, studied computer science at Western Washington University. Acosta traveled to Astroworld on his own, as he was a big fan of Travis Scott. 
Rudy Peña, 23, worked as a medical assistant in a rehabilitation clinic while he also  studied criminal justice at a college in Laredo, Texas. He was the youngest of five siblings. 
Madison Dubiski, 23, was a student at the University of Mississippi. She worked at an advertising agency in Houston. She attended the concert with her brother Ty, but they were separated during the crowd surge. 
Danish Baig, 27, was a district manager for telecom giant AT&T in the Dallas area. He reportedly was married less than a month ago. Baig died protecting his new wife from getting trampled. 
In later coverage, multiple news sources reported that 9-year-old Ezra Blount of Dallas died Nov. 13, making him the 10th and youngest person to die from injuries sustained during a crowd surge at the festival.
Leave a Comment