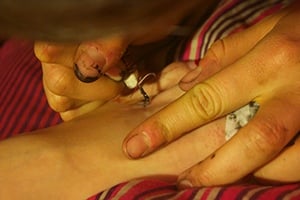 Brianna Parker, Staff Writer

April 10, 2015
Spring has sprung, and students around campus are breaking out their warm weather clothes, hanging out with friends and … tattooing each other? In lieu of professionally done tattoos, some Guilford students are turning to the artistic talent of their classmates to stick 'n poke permanent designs...
Allie Baddley, Staff Writer

April 25, 2014
Imagine walking into a tattoo parlor for the first time: smelling cleaning agents, seeing artwork covering the walls and hearing tattoo guns drilling in the background. You know you want a tattoo, but are flooded with mixed emotions. Relax, take a deep breath and get tatted. Having trouble deciding...