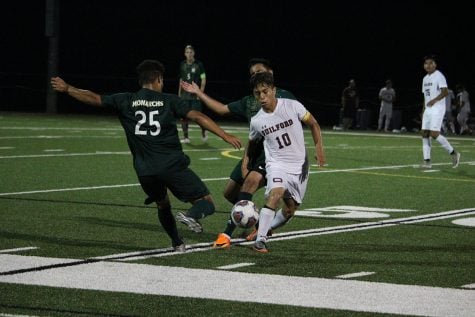 Andrew Walker, Sports and Web Editor

September 14, 2018
The Guilford College men's soccer team only played four games this season, but it already has won more games than last year. The men's soccer team won its first three games of the season and then dropped the next game to Averett University, 1-0. "Positively so far, we've done quite well,"...
Emily Haaksma, Staff Writer

October 4, 2013
An electric sander, manned by sophomore Lee Sisson, buzzes in the scene shop. Junior Patrick Brandt runs lines next to the Joseph M. Bryan Jr. Plaza fountain. Sophomore Nina Troy prances fearlessly along the catwalk. There is always something happening in the Theatre Studies Department. Right now, everyone...