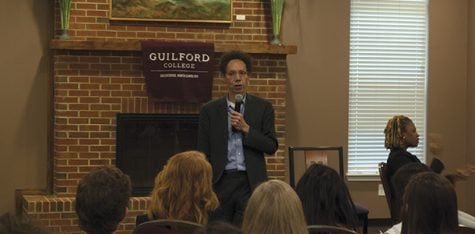 Kathryn Long, Staff Writer

April 22, 2016
Respect, fairness and trustworthiness. These are the three "notions of legitimacy" that best-selling author Malcolm Gladwell spoke about in his Bryan Series talk on April 12. As the last speaker for the 2015-16 season of the Bryan Series, Gladwell attracted a diverse audience of subscribers,...
Kathryn Long, Staff Writer

April 8, 2016
Malcolm Gladwell is the author of five New York Times best-selling books, a journalist for The New Yorker and the next speaker for Guilford College's Bryan Series program on April 12. Gladwell, whose books include "The Tipping Point," "Blink," "Outliers," "What the Dog Saw" and "David...