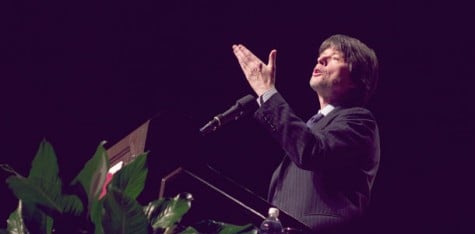 Linda Catoe, Staff Writer

April 6, 2012
By the time PBS "National Parks" documentary filmmaker Ken Burns walked out on stage on March 27 as the third speaker in the 2011-12 Bryan Series, the audience buzzed with a sense of something a lot more than just the sum of our parks. President and Professor of Political Science Kent Chabotar...
Linda Catoe, Staff Writer

March 23, 2012
A lone violin strain meanders through a long, close up pan of a photograph of three enthusiastic faces. As the camera opens to a wide shot, we see three bare-chested college males, with the letters K-E-N painted on their respective chests. A fully clothed, equally enthusiastic female student holding...