Mae Wood, Staff Writer

February 26, 2016
For most students, Guilford's cafeteria offers a wide variety of options for breakfast, lunch and dinner. Vegan students, on the other hand, have much more limited options. Guilford has taken certain initiatives to adhere to the needs of these students, but can we do more? Julie Elmore, manager...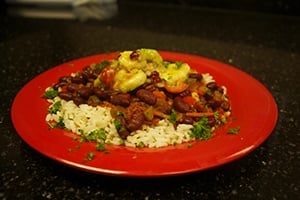 Zachary Lindsey, Staff Writer

March 27, 2015
If you eat at the vegan station at Guilford College's cafeteria, you know Guilford's vegan chef Julie Elmore. And chances are, she knows you too. Elmore was hired by Guilford College through Meriwether Godsey in August 2013. Elmore was born in Charlotte, N.C., but moved to Greensboro as a child....