James Mitchell, Staff Writer

October 8, 2020
With quarantine still in effect, many students are finding themselves with plenty of free time on their hands that otherwise might have gone to socializing. Now more than ever, an escape from reality seems a life-saver, be it on a fancy boat or into a fantasy world. When perusing Guilford College's...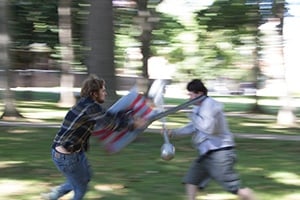 Allison Stalberg, Staff Writer

October 24, 2014
Do not be surprised if you are walking around campus on a weekend and you see people dueling. That is just Amtgard. "It's an opportunity to affectionately beat each other with foam weapons," said junior and Amtgard player Suzanne Farmer. Every Sunday from 1 p.m. – 2 p.m., students gather...