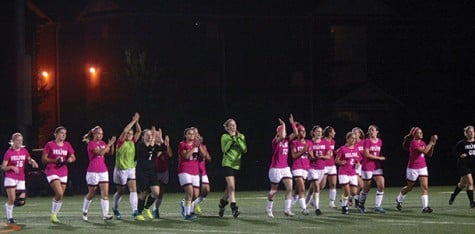 Estavio Jones, Staff Writer

October 23, 2015
October is more than Halloween candy and horror movies, it is Breast Cancer Awareness Month and Guilford sports teams are gearing up to promote awareness. Every year for the entire month of October, our college sport teams don pink to raise awareness for breast cancer. Pink jerseys, pink cleats and...
Aiperi Iusupova, Staff Writer

October 31, 2014
As October rolls around each year, shades of pink begin to fill the air. Some members of the Greensboro community go downtown to Center City Park to hang pink ribbons in memory of those whose lives were affected by breast cancer in commemoration of National Breast Cancer Awareness Month. Breast cancer...