CAB plans a month of events for Serendipity's 50th anniversary
This year marks the 50th anniversary of Serendipity, one of the significant annual events of the spring semester here at Guilford College.
This event gives clubs, students and even faculty a chance to show off their skills and have fun all week long.
According to Guilford's Office of Advancement and Alumni Relations page, "Serendipity is a time to come together and celebrate in true community fashion everything from art, music, comedy, student performances and more."
Over the past two years, the COVID-19 pandemic has put a damper on Serendipity celebrations. In 2020, the event was canceled altogether, and in 2021 it was limited to Guilford students only. 
The members of Guilford's Campus Activities Board (CAB) are behind the planning for Serendipity, and hope for a better turnout this year.
"I expect a large turnout. because this year we have been able to run larger-scale events without having as many COVID regulations," said Jay Montague, who serves as CAB's vice president. "The events will also be mostly outside."
"We're hoping to possibly have alumni and everything back on campus to enjoy the events," said CAB's Director of Internal Affairs and Finances, Sierra McCollum. "I think it would be really fun to see…normalcy and see more than we had last year. It would be good to hopefully see a little more in person."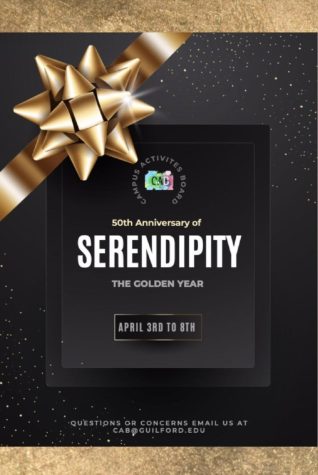 "I do expect a better turnout this year," said CAB's president, Kristen Smith. "The reason why I believe this is because this year is Serendipity's 50th year anniversary! With this year being a huge milestone for Guilford College I believe students, staff, faculty, administrators, the whole community is excited to celebrate it together." 
As president, Smith oversees the planning process, making sure that the team is on track and completes tasks before a deadline and giving them the tools to make their visions come to life.
CAB members gave some insight into why students should be excited for this year's Serendipity.
"I think students should be excited as this year's Serendipity will feature lots of diverse events with collaborations across the campus," said Montague, who will also help to organize Serendipity's laser tag event. 
"I think students should come out because it's one of the biggest things we do on campus," McCollum said. "We're really trying to make this the biggest thing ever and we're hoping to bring that spirit COVID has taken." 
"Students should come to Serendipity this year because we have a lot of big events planned for this year, which is a perfect remedy for lots of fun!" Smith said. "Because this year is so big, we couldn't fit all the events into one week. We are teaming up with all the active clubs on campus to put on a month of events to celebrate this tradition of creativity the Guilford way. So if you have class, work, homework…during an event you wanted to attend, it's okay, because there will be plenty of events to experience!" 
Hopefully, this year's Serendipity will go off without a hitch, and everyone will have the time of their lives. 
Leave a Comment