Guilford Scores, Sports Briefs, Men's Rugby defeats Catawba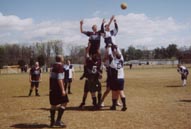 Guilford Scores
Baseball (16-15, 5-8 ODAC)April 7 Beat Roanoke 15-5
April 10 Beat Emory & Henry 13-3
April 10 Lost to Emory & Henry 6-5
Softball (8-22, 4-10 ODAC)
April 4 Beat Randolph Macon Women's College 12-1
April 4 Beat Randolph Macon Women's College 28-3
April 7 Lost to Lynchburg 8-0
April 7 Lost to Lynchburg 17-0
Men's Lacrosse (5-6, 0-3 ODAC)
April 9 Lost to Virginia Wesleyan 18-9
Women's Lacrosse (4-6, 2-4 ODAC)
April 7 Beat Hollins 22-4
Tennis (5-8, 1-6 ODAC)
April 7 Lost to Emory & Henry 6-3
April 8 Beat Peace 5-4
Sports Briefs
WASHINGTON – The supplement ephedra has been banned by the federal government.
The herbal stimulant was once very popular with athletes and bodybuilders as well as dieters. It has been blamed for 155 deaths and multiple heart attacks.
The ban is the first ever on a dietary supplement. The Food and Drug Administration announced in December it would ban the supplement in spring of 2004.
The supplement speeds up heart rate and can be harmful if misused.
Sales have plummeted in recent months.
BOSTON – Denver College won its first NCAA hockey title since 1969 April 10 over Maine, 2-1.
Denver got to the title game by defeating Minnesota-Duluth while Maine ousted heavily favored Boston College in the Fleet Center April 8.
Denver goalie Adam Berkhoel was named Frozen Four MVP. He made 24 saves in the title game.
JACKSONVILLE, Fla. – Long-time broadcaster Pat Summerall received a liver transplant April 10. He had been on the waiting list at St. Luke's Hospital since April 2.
He was flown from Dallas to Jacksonville for the surgery.
Summerall is a recovering alcoholic. He qualified for the transplant through anonymous blood tests.
He played 10 seasons in the NFL (1952-1961) and spent 40 years as a broadcaster. Summerall has called 16 Super Bowls.
Men's Rugby defeats Catawba
Above – Kevin Woodcock jumps for the ball during a lineout
Left – The two teams form a ruck to vie for posession
The Guilford Men's Rugby team defeated Catawba College's club at an April 9 home match. The final score was 25-5. Guilford scorers were: Joe Szyleyko – two tries, Chris Runion – one try, Bobby Iordanov – one try, Kevin Woodcock – one field goal and one converted try.
Leave a Comment