The Get Up Kids disappoint with Guilt Show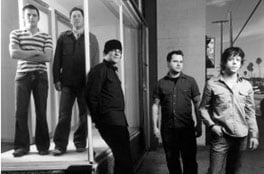 he ultra whiny days of The Get Up Kids seem to be over. The emo band from Kansas released their first album since 2002's On A Wire with the March's Guilt Show, which is heavier than previous albums.
The album is definitely the most throbbing and diverse release the band has put out, but it lacks a main theme. There are some songs about heartbreak and some about more mature topics, none of which are politically-driven.
Early in The Get Up Kids' career, their songs were driven by two guitar lines and shrill lead vocals. On their 1999 album, Something to Write Home About, they added some electric keyboard sounds. Guilt Show tries to combine their early, almost acoustic days with sounds from the pop-punk world, along with additional piano and keyboard sounds.
The album opens with a new sound for the band. "Man of Conviction" is a fast punk beat, something the band has a hard time with lyrically. The next song is one of my favorites on the CD. "Never Be Alone" is classic Get Up Kids and involves the band's staple, dealing with heartbreak. Lyrically, it switches back and forth between picking up the phone and putting it back on the receiver without calling. Should I call the psycho that messed up my life just because the sex was good?
Other songs that I like on the album include "The One You Want," "Holy Roman," "The Dark Night of the Soul," and "Conversation." On other TGUK albums I like all the songs; on Guilt Show, I like about half.
It is obvious the guys are trying to expand their style out of typical emo pop. I think they try too hard, and have gone a long way from what got them signed years ago with Vagrant Records (the label they're still with). The band has a strong emo following, but this album may deter some emo kids from actually cheering up a bit. It's a mix of petty heartbreak and wannabe-serious Ryan Adams-type stuff, and it doesn't work unless you're Ryan Adams.
I own four other TGUK albums (Something to Write Home About, Four Minute Mile, Red Letter Day, On A Wire) and all have one great song that defines the album. I don't see a "Ten Minutes," "Washington Square Park," "Mass Pike," or "Campfire Kansas" on Guilt Show. The lack of a signature song may enter this record into the abyss of the average pop record.
I am disappointed by this C.D. The maturation of the band is also their demise.
Leave a Comment