'Coming out' of the locker room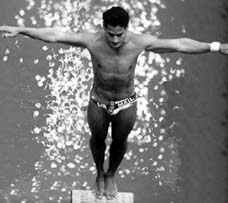 Sometimes I wonder if the Washington Redskins could boost team morale by giving manicures at halftime while listening to The Immaculate Collection. And then return to the field for the second half, dressed in drag.
I'm sure they would still lose, but at least they'd be looking fabulous.
The problem with this vision is that homosexuality and sports don't mix.
Consider former San Francisco 49er lineman, Esera Tuaolo, who came out in an interview. His teammate, Garrison Hearst, quickly responded by saying, "Aww, hell no! I don't want any faggots on my team. I know this might not be what people want to hear, but that's a punk. I don't want any faggots in this locker room."
The problem is not that I don't support Hearst's opinion – the problem is that it sucks.
Hearst's comments are not any different from racial slurs.
In May 2002, New York Mets catcher Mike Piazza said, "I'm not gay, and I'm heterosexual," before a game against Philadelphia in response to accusations about his sexuality.
Any hint of unfamiliar masculinity has to be addressed, because the locker room isn't exactly a friendly place. "Coming out" on a professional team, hell, even on a college or high school team, is career suicide.
Hearst and Piazza must be reminded that some of the greatest athletes of all time were gay or lesbian.
Case in point number one: Billy Jean King. With six Wimbledon titles, she is arguably the greatest tennis player of all time. Gay or straight, male or female.
Case in point number two: figure skater Rudy Galindo came out of the closet in 1996 and general consensus was, "well … yeah. And?"
Because anyone who performs to West Side Story and points their toes so easily during a triple lutz has to have a little extra sugar in their bowl. I mean Tonya Harding was plotting her next attack on Galindo out of jealousy alone.
Case in point number three: Greg Louganis, a four-time Olympic gold medalist in diving at the 1984 and 1988 Olympics in Los Angeles and Seoul came out of the closet in 1994, talking about the homophobia he experienced at meets from other divers.
I want to meet these divers. If they are homophobic, fine, but then why would they choose diving as their sport? Plummeting head first into a cold pool of water, wearing a thong – diving is the second most homoerotic sport around, trailing only doubles luge.
Despite what King, Galindo and Louganis have done, they are still athletes competing in individual sports. The only way to overcome the locker room politics is to do so by example. The more athletes, coaches, sports writers, judges, referees and towel boys come out, the more the ice of prejudice will thin.
And after all, sport should not be consumed by sexuality. Gay or straight, black or white, two arms or eight, nothing is more awe-inspiring than watching the human body displayed in fine athletic prowess.
Unless it's curling. Because how this sport got into the Olympics leaves me at a loss.
Leave a Comment