New sports bar not up to par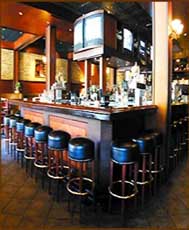 Sports Editor
You're not a Southerner. Unfortunately the local ABC affiliate thinks you are, and offers an ACC game. You want to watch the important Big Ten or Pac-10 game.
What do you do? Head to the sports bar, of course.
I wanted to catch the Washington State vs. Oregon game last Saturday instead of the Wake Forest/Virginia contest. I decided to try Legends, a new sports bar off the Guilford College Road/I-40 interchange, which is connected to the Radisson Hotel. I used to watch my Michigan State Spartans when this place was Damon's, but everything has changed. The service has declined and the food choices are less plentiful now.
When I entered, I informed the hostess which game I wanted to watch and she led me to the booth area. Four big screens dominate the booth area, each showing a different game. I also noticed four small sets at the bar area.
The walls were decorated with local and regional sports memorabilia. A framed Wake Forest jersey of Tim Duncan was the item that stood out, and some autographed photos were hung too. Mostly the walls were adorned with posters and pennants from UNC, Duke, NC State, UNCG, and A&T. There is supposedly a Guilford football jersey hanging somewhere, but I didn't see it, nor did I actively look for it.
The food choices were average for such a place, mainly food that is less nutritious than even caf food (main items are burgers or ribs). Appetizers range from $4.25 to $7.95 and soups and salads are available from just over $2 to above $6. Entrees such as grilled salmon, whole racks of barbecued ribs, and steak (rib eye and NY Strip) start at $13.25, but can cost over $20. With my limited disposable income, I settled for a burger, coined "NC State 'No Rules' Burger" for $5.95. I thought a potato came with it but no; I had to fork over another $1.75 for a plain baked potato.
Probably the best deal Legends offers, and great for watching football with friends, is their 20 wings and a pitcher of Yuengling for $13.90. Food and drink specials run daily, but they differ from week to week.
The food was all right and it was served in a relatively short time. I asked which beers were available and the selection was quite good. On draft is Red Oak, Yuengling, Pete's Summer Ale, Budweiser, Bud Light, Coors Light, and Miller Light. Bottles were numerous too, which is good for the beer snobs out there. I asked about my favorites (Sierra Nevada, Killian's, Bass, Harp) and all were favorable nods from my server.
All in all the service was okay at best; it took forever to get my bill. That would have been fine by me, had the place been busy or if the game were close (Washington State was up by 30). Also the restrooms had a strange odor to them, and not a pleasant one. If I had to grade this place it would get a C-, just below average. I give it a passing grade because they do offer College Football Game Plan and Sunday Tickets for NFL games, but that is almost required at a sports bar.
Bring back Damon's or we will all have to find a different place to watch our out-of-state teams play.
Leave a Comment