Motorists:
March 28, 2017
If you are lucky enough to own a car or have enough money left over to chip in for gas, don't waste the opportunity for an outing going to the usual places. Instead, forgo drinking on a Friday night and plan to rise early so that you can take a day trip to visit the strange and obscure.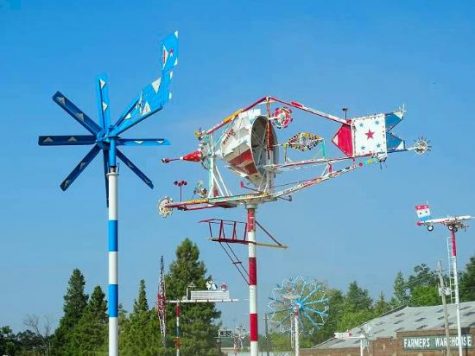 Whirligig Park, 301 Goldsboro St. S, Wilson, N.C.
Legend has it that Vollis Simpson had a daughter who decided to take a drive while on a bad LSD trip. She passed away, and her ghost haunted her father's dreams, providing him a glimpse of what she saw before she perished. In her name, he created massive windmills with reflectors. Later, a car was said to have wrecked on a road adjacent to the park, perpetuating the myth.
The truth: while there was a daughter, there was never a wreck or death due to a LSD induced joyride. Simpson took to making the 30-something windmills to pass the time doing something he enjoyed and he thought  that drivers might enjoy too. The windmills are over 50 feet tall and are described by atlasobscura.com as "extending nearly as far outwards into space."
Simpson's work is world-renowned. Four pieces were installed at the 1996 Olympic Games in Atlanta, and several pieces have made their way into international collections. One piece appeared as a window installation at Bergdorf Goodman, a department store in New York. Simpson died at the age of 93 in 2013.
"Reminiscing," 525 Welcome Ave., Henderson, N.C. 
YouTube: Strange Carolinas
An artist by the name of Ricky Pearce used his time creatively by crafting a set of gargantuan legs. According to hendersondispatch.com, the sculpture was inspired by Marilyn Monroe's role in the saucy black and white flick entitled "The Seven Year Itch" in which she wore the famed white dress and happened across a subway grate. The legs are 17 feet tall and weigh in at a modest 160,000 pounds. The gartered limbs sit in a patch of grass all alone but Pearce plans to equip them with a pair of 30-foot heels. The name of the piece, "Reminiscing," can be seen as you walk underneath the legs' arch.