Second Free Press merges creativity, politics
April 2, 2017
Around the rooms in Hege-Cox Hall, posters hang with messages such as "Black Lives Matter" and "Fight For Facts." Machines whir, churning out freshly stamped T-shirts and scraps of stamps litter the floor as students carve their own designs.
This is the second Free Press event.
"It was just an event where students could come and express themselves by making posters to show frustrations or solidarity with other groups," said Assistant Professor of Art Antoine Williams. "A lot of students really enjoyed the first one and wanted to do it again."
Free Press, hosted by the Art Department at Guilford College, is a chance for students to create art with political messages.
"It's really crucial for people to realize that their peers are active in this and that they aren't alone," said senior Taryn McFadden, who attended the event.
"One of the hardest things when you're dealing with a political situation, like we are right now, is that you feel like you're completely isolated and that the mass population is against you.
"The fact is that we can have events like this that say, 'no, there are a group of us here. We support you. We're here for you. And we're not going to shut up about it.'"
The initial event, which took place on Feb. 10, was thought up by Williams and Visiting Lecturer of Art Katy Collier.
"I came to school one weekend and (Williams and I) were at lunch together," said Collier. "I told him I really wanted to have a protest printing party, I had had this idea over the weekend, and … Antoine was like, 'Yeah, I had the same idea.' So we were just all excited.
"In early December, we had a mini-get-together. We invited some people from creative writing and some printmakers and people in the art department to just hang out and generate ideas about slogans we could print and images, so that was the first brainstorming session. From there, we were figuring out what Free Press would look like."
The second event took place on March 11.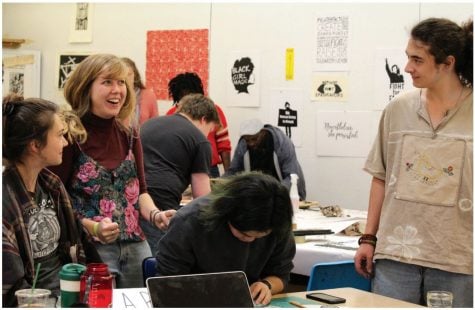 Gloria Singleton-Khan '20, Amelia Hall '19, Hayden Young '19 and Jake Fetzer '19 create stamps and political posters during the second Free Press event that took place on Friday, March 11, 2017 in Hege-Cox Hall. // Photos by Nicole Zelniker/Guilfordian.
"The second Free Press seemed to go a lot smoother," said sophomore Erin Kye, who helped organize the event. "The first Free Press went better than any of us could've planned, but we severely underestimated the amount of people that would show up, so we ran out of materials, like patches, within the first two hours."
Various stations included woodblocks, stamps and screenprints, which were new to some of the volunteers.
"You have this really fine mesh screen (and) you somehow block out the design that you want," said volunteer and senior Hannah Brewer-Jensen. "I'd never done screen printing before, so I had to sit there and do a few screen prints myself and learn as I went along."
Not only does the event serve as an outlet for political creativity, but also provides a place to highlight art."
"Every time sports teams do something, they get a banner, or we get an email," said volunteer and senior Jocelyn Foshay. "These students are working just as hard and doing amazing work.
"The art building tends to be a scary zone for students unless you're an art major or you have a class in there. I like the idea of opening it up to the community."
An additional change between the first and second event included additions to print options. For example, there were "Black Trans Lives Matter" prints and other prints in Spanish.
"The quote from the senator (Mitch McConnell) talking about Elizabeth Warren, 'Nevertheless, she persisted,' was one of the screen prints this time," said McFadden. "That was really awesome."
For both Guilford and the wider community, this is a chance to understand art, politics and identity.
"Just being someone who's a person of color is now a life-threatening situation," said volunteer and senior Taylor Brown. "Or being someone who's LGBTQ+. Having this Free Press Event at a small college (helps) people to open up their minds and understand the things that are happening in this world."
Although the department organized the event around the Trump presidency, Williams believes it is important to express through art regardless.
"The fact that you take up space and that you matter, that's always important," said Williams. "It doesn't matter if it's a heightened political climate. Making your presence known is part of being a fully-fledged person. It's part of having autonomy.
"In the art department, we're really big on using art as a vehicle to get your voice heard."
For Kye, the event was a way to provide students with that vehicle.
"I want Guilford to have a safe space and a creative outlet when (students) are feeling overwhelmed with all that is happening in our world," said Kye. "A lot of times, I hear people talk about wanting to be able to make art but not believing they have the skills or confidence to do it on their own.
"Free Press gives people, not just artists, the ability to create and make without that pressure."
The third Free Press event will be Friday, March 31.