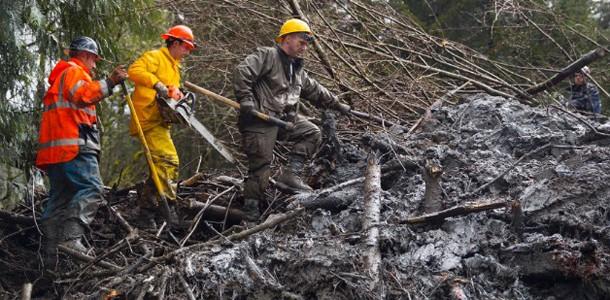 One square mile of land buried under a heap of mud and debris. Thirteen missing. Thirty-three confirmed dead.
"It is completely overwhelming," said Barbara Tolbert, mayor of Arlington, Wash., in an interview with NPR. "It's literally one scoop of dirt at a time as they sift through a mud pile, and everything is the same gray color."
On Saturday, March 22, the single deadliest landslide in U.S. history not triggered by a volcanic eruption, earthquake or dam collapse struck Oso, a small rural community in the Stillaguamish River Valley of Snohomish County, Wash.
"In my career, I have responded to many large incidents, including earthquakes, large brushfires and riots," said Arlington Fire Chief Bruce Stedman, according to NBC. "I can honestly tell you this incident dwarfed any of those."
According to data from the U.S. Geological Survey, the river valley has a history of massive landslides dating back thousands of years.
Since the previous landslide struck the valley in 2006, development of the valley continued undeterred with the addition of several new homes along Steelhead Drive — directly in the path of the landslide that struck on March 22.
"What were (the builders) doing there?" said Marlene McCauley, professor of geology and earth sciences. "You can clearly see that these (landslides) are going to be big. It isn't rocket science to say, 'Gee, maybe we ought not to build in this area.'"
While many geologists considered this disaster foreseeable given the site's history of landslides, some residents and local officials disagreed.
"It was considered very safe," said John Pennington, head of Snohomish County's Department of Emergency Management, in a press release, according to The Seattle Times. "This was a completely unforeseen slide. This came out of nowhere."
After a smaller slide affected a nearby location in 2006, local officials worked to prevent future occurrences by shifting the path of a nearby river and installing retaining walls and other protective measures.
"It's a waste of money — you don't build there," said McCauley. "You can't stop these mudslides. They're huge. It's not like you can put a pin in there and hope it's going to stay closed."
What more, then, could have been done to prevent this natural disaster?
In addition to efforts to stabilize the area, county officials suggested a buyout of homes in the river valley. Unfortunately, the prohibitive cost and lack of public support caused the buyout to fail, leaving residents of the valley living near a geological time bomb.
"(Homeowners) should try to research the area they want to live in, but I think it is more so the developer's and government's fault that the land was even an option to live on," said Early College senior and Environmental Club member Anjali Kapil.
While some landslides can be scientifically detected in advance, the Washington landslide was different.
In retrospect, geologists point to heavy rainfall in the days prior to the slide as the cause of soil saturation on the hillside. The resulting pressure on the foot of the hill lead to a collapse of the top portion and created a wall of mud and water that ultimately struck Oso.
"All I could say was 'Oh my God,' and then it hit us," said Robin Youngblood, a survivor of the slide, according to The Associated Press. "It was like a wave hit our mobile home and pushed it up. It tore the roof off of the house. When we stopped moving, we were full of mud everywhere. Two minutes was the whole thing."