Guilford terminates contract with Under Armour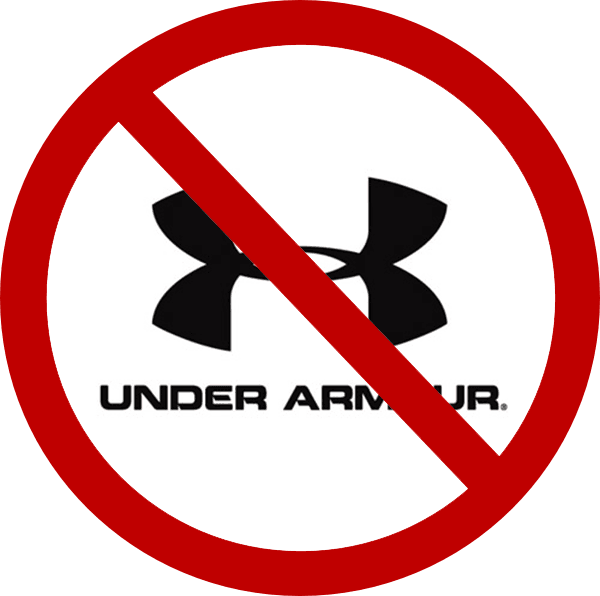 Guilford College's President Jane Fernandes issued a statement that the Quakers' athletic teams will no longer wear Under Armour uniforms due to the CEO of Under Armour, Kevin Plank, praising President Donald Trump.
Guilford's athletic teams will be banned from wearing Under Armour gear at any of the College's sports events. Fernandes also hinted that the ban could be campus wide and not allow any person to wear Under Armour, even if they are just visiting Guilford.
The student-athletes had mixed reactions about this ban that was randomly sprung upon them.
"This is great news," said LaJames Ball, a sophomore guard on the Quakers' men's basketball team. "I have always loved Nike more (than Under Armour) and it will be great that all the athletes won't have to wear the terrible Under Armour uniforms."
On Wednesday, the administration went around and collected all the uniforms from the teams, including the teams in season.
The situation reached a high point when the administration tried to take the uniforms from the baseball team during a game against Bluefield State College. The players were confused as all their uniforms were confiscated and they did not have any uniform to wear to finish the game.
"The could have waited until after the game and not caused such commotion," said senior pitcher Henry Rowengartner. "They didn't even give us another jersey to play in, we just taped our numbers on our backs using duct tape."
The administration said that they will have a jersey burning tonight by the lake and invited anyone who wants to burn any of their own Under Armour clothes to join in.
"We just got new jerseys this year, and they were really cool," said Dennis Shores, the softball head coach. "They cost a lot of f—— money and we did not even use them for a full season. And now what do we wear? Everyone only has Under Armour gear and we need something for tomorrow's game against Randolph-Macon College."
Many student campus leaders have called this move one of the great things that President Fernandes has done while at Guilford.
"This insignificant and pointless thing is great step to change nothing," said the Speaker of Guilford's Student House of Representatives Joseph Gurney Cannon. "But is necessary that it happens so that we know the administration will do something against (President) Trump because that is the administrations job and they should do what the students tell them because every student here hates Trump."
While the administration though this would not explode into national news, it did when President Trump tweeted about it yesterday morning:
"Sad to hear FAILING Guilford College stopped using AMAZING Under Armour gear, Americans go BUY Under Armour: underarmour.com #MAGA."
Many Trump supporters then started a call on Twitter for the boycott of Guilford College with #boycotttGuilford.
The school administration has said plans are in the works for a new company to supply the uniforms for the athletes but it will take months.
"We want to use a company that does support the supposed values we have that only sometimes we follow but the uniform supplier must follow them all the time," said Guilford College's spokesman Chris P. Bacon. "We know that no company exists like this but we will still try and find it and the athletes will be suspended if they do not follow this stupid ban."
When asked what the athletes could wear instead, the spokesman said, "other clothes."
The full impact of this decision will take a while to see, but the school already has felt some impacts of the ban.