October 7, 2017
The Guilford College Football dropped their first Old Dominion Athletic Conference game of the season to Hampden-Sydney College. The Quakers fell by a score of 21-18 and dropped to a 2-3 record on the season. Senior quarterback Karsten Miller passed for 210 yards and threw one interception. Miller...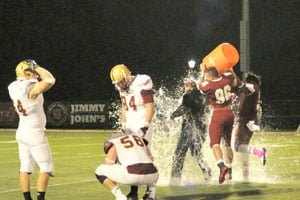 Emily Currie, Staff Writer

November 2, 2012
Guilford's football team is disciplined, tenacious, and unified. They are one team — a family really — with one common goal: to win football games and go to playoffs. The team won three games in a row, which is the longest winning streak since 2007. They are more focused and determined than ever...