Brittany Murdock, Staff Writer

March 29, 2013
Disclaimer: This story is a part of our April Fool's edition, The Goofordian. This story was created by Guilfordian staff and is not based in fact. Have you noticed some missing fish in The Grill fish tank? Where could they possibly be going? The answer may lie within you. In order to save mon...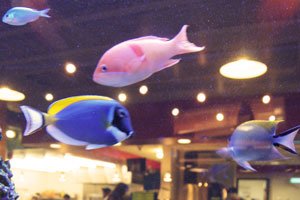 Katy Andrews, Staff Writer

March 1, 2013
The smell of pizza and fried foods, the roar of hungry college students, the newly infamous "Harlem Quake" location and a tank full of fish. What? The recently installed fish tank that now occupies prime space in the Quakeria has become a topic of discussion this past semester. Now the question...