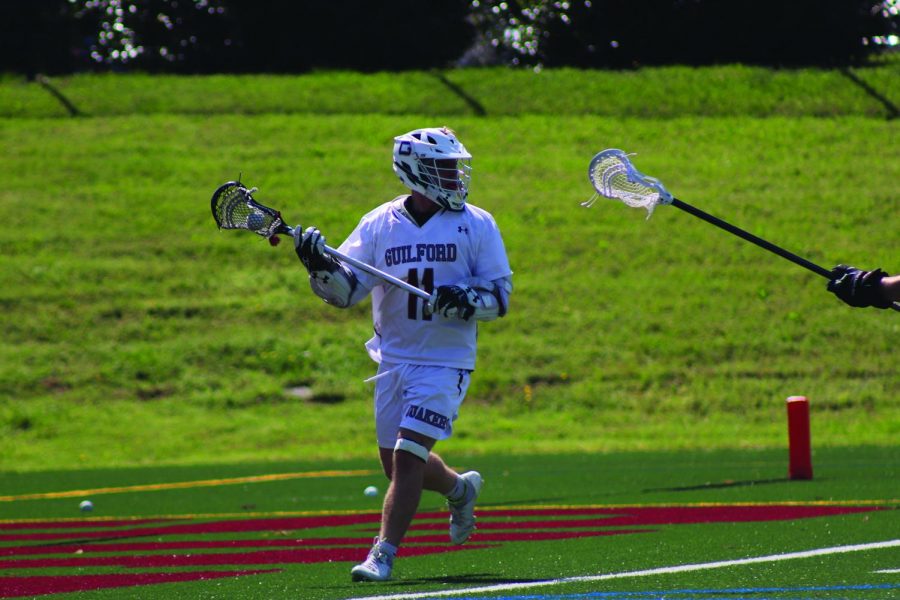 guilfordquakers.com
The Guilford College men's lacrosse team is looking for a fresh start this year. Last season, the Quakers finished with an overall record of 8-9.
They went 2-8 in conference play, missing the Old Dominion Athletic Conference (ODAC) playoffs. Head Coach Mark Crisco described last year's team as "lacking in experience" because a lot of juniors were having to step into impact roles.
However, this year there are 12 returning seniors that have a wealth of experience and leadership skills that make Crisco confident for the team's success.
Among the returning seniors, Crisco mentioned a few players that he believed will make a big impact on the field this year. On the offensive side, he mentioned Connor Sweeney, Brennan Sweeney, Derek Zacatenco and Bryce Craig, who combined for 60% of the 178 total goals scored last season.
On the defensive side, Crisco is expecting seniors Tony Batchler and Jake Dugal to be disruptive. They combined for 43 caused turnovers and picked up a total of 53 ground balls. Crisco expects the remaining six seniors to play important roles as well.
First-year defender Austin Rohweder discussed senior leadership.
"Senior leadership on the lacrosse team this year is strong," Rohweder said. "As first-years, we can tell the seniors that were on the team last year are hungry to have a comeback season, and it is very motivating to the underclassmen."
In addition, there are nine freshmen and one transfer, some of which are expected to contribute on the field early on, according to Crisco. Additionally, he also brought in two new assistant coaches that he believes will aid the team with reaching their goals.
Senior attackman Connor Sweeney is very excited about this year's team compared to last season.
"We have a very strong bond and it feels more like a team (compared to last season)," said Sweeney. "Last year there was more of a vide that caused conflict and did not help us reach our goals."
He also mentioned the senior leadership making an indispensable impact on this year's team.
"As a group we seem to have a clear idea about our goals and are motivated to achieve them," Sweeney said.
When talking to players and coaches, they all seem to have one common goal in mind: to make the Old Dominion Athletic Conference tournament. The seniors are especially wanting to accomplish this goal.
"In all three years so far, we have not reached (the tournament)," Sweeney remarked. "It would be a great accomplishment for us as a senior class to do it. Day by day we are just trying to improve so we can play in May."
Ultimately, the 2020 men's lacrosse team has a new look and is looking to make a big impact on the ODAC this year.
Editor's note: This story originally was published in Volume 106, Issue 9 of The Guilfordian on Jan. 24, 2020.