For one month, maroon and pink go well together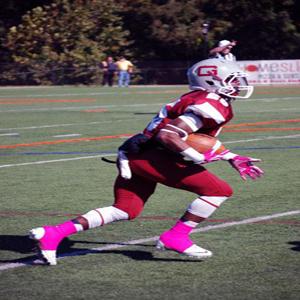 Think pink, wear pink and live pink. Pink has been everywhere these days, marking October as Breast Cancer Awareness Month.
Pink represents compassion, nurturing and love that signifies good health and life.
Many wonder why pink is the signature color for breast cancer. The idea came from DeAngelo Williams, a running back for the Carolina Panthers.
According to the Carolina Growl, a Carolina Panthers blog, in 2009, "Williams petitioned the NFL to allow players to wear pink cleats and the league accepted his idea."
His goal was to promote Breast Cancer Awareness by sporting pink cleats and other accessories during the month of October.
Thanks to Williams, athletes across America are now rocking pink.
"I wear pink to honor those who are diagnosed with breast cancer," said sophomore quarterback Mitch Ferrick. "Breast cancer affects the lives of many people and those who are close to me."
As a special way to bring awareness to Guilford, Ferrick's teammates are also displaying pink accessories on their uniforms.
"I support breast cancer by wearing pink in my football games during the month of October," said junior defensive line Jordan Farmer. "I gave money to one of my fellow teammates Chris Campolieta; money that went to the Breast Cancer Awareness Fund."
Farmer continued, "My best friend's mother is a breast cancer survivor."
Many women find their lives rearranged and their daily routines shattered when they are diagnosed and find themselves battling a horrific disease physically and emotionally.
"My mom was diagnosed with breast cancer in December of my senior year," said sophomore safety Chris Campolieta. "It was a shock at first for my family, but since we have such a large family, we were all able to take care of my mom during her treatments and surgery."
Guilford women's soccer, volleyball and basketball athletes donated funds to Campolieta in support of her.
"For the past two years, I have done a fundraiser to raise money for breast cancer," said Campolieta. "I sell wristbands that say Hope, Strength, Faith and Survivor. It's not just my fundraiser, but I have a lot of support from the coaches and players.
"They make this whole fundraiser possible."
By wearing pink, Guilford athletics have contributed both to raising knowledge and supporting breast cancer research.
"Each of the players and coaches wear pink items in games," said head football coach Chris Rusiewicz.
Breast cancer is life-changing and has affected countless women around the world, but they are no longer alone in their fight.
"My grandmother is a breast cancer survivor who lost one of her breasts due to this terrible disease," said Farmer.
The Guilford community can show support by "participating in walks and having discussions led by breast cancer survivors in order to raise awareness surrounding the issue," said first-year Eleanor Bradford.
[photomosaic nggid=166]