Coach Lewis celebrates 100th win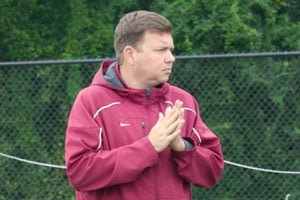 Head Women's Soccer Coach Eric Lewis will always remember Sept. 22 as the date when he became the first coach at Guilford College to achieve 100 career victories, following a 6-0 win over Eastern Mennonite University.
In his 11th year, Lewis became the winningest head coach as well as the longest tenured women's soccer coach. Achieving the 100-win mark bolsters what has already been a highly illustrious career.
Lewis started his coaching career as an assistant coach at Gardner-Webb University before a brief stint as an assistant coach for the Guilford's men's soccer team. Following his time at Guilford, Lewis moved on to Louisburg College in Louisburg, N.C., where he racked up more than 30 wins as head coach of the women's soccer team. Lewis then applied to be the head coach for the women's team at Guilford, under the impression that it was a one-year job.
"They needed someone to come in as a temporary thing," said Lewis. "And here I am, 11 years later."
Coach Lewis attributes a lot of his success to two main things: time and recruiting.
"The secret (to) success is time," said Lewis. "Have good recruiting classes every year to make sure you have a full team."
Indeed, being a good recruiter can be a huge weapon in a coach's arsenal. A necessity of every successful coach is being able to bring in players that can win.
"He is a very good recruiter," said sophomore soccer player Hannah Schiltz. "He's recruited girls from all over—very good, smart-playing girls."
Once these talented players are brought in, Lewis likes to instill his own brand of soccer, which may not always be the same from year to year.
"I've always wanted to play high-pressure (soccer)," said Lewis. "But the styles can change each year, sometimes within the year, too."
Lewis' coaching style also preaches a dedication to the task that is being completed at the moment. He feels that the players that are able to accomplish tasks both on and off the field are usually the most successful.
"Jay Bilas (leadership forum speaker) came in last week and said it perfectly, 'Whatever you are doing in the moment, that's the most important thing,'" said Lewis. "The kids that do things right in the classroom tend to do it right out on the field."
Lewis' players are also very proud of their highly accomplished coach. Junior soccer player Caroline Bishop saw this win as a momentous milestone.
"It is a great accomplishment and it's a target point for any coach," said Bishop. "(It is) a very successful achievement."
Lewis also has a great affinity with his players. While on the field, Lewis strives to get the best out of them.
"He's very direct," said Schiltz. "He's not afraid to tell you what you are doing right or wrong. He wants you to know what you can do better."
Coach Lewis' 100th win really speaks volumes about his coaching methods. There is a lot to be excited about moving forward with the team. 100 wins is nothing to scoff at, so congrats Coach Lewis. You've earned it.