CAB succeeds with concert
Guilford's Serendipidity week is approaching fast and the date for the highly-anticipated concert that is held at the end of the week has been revealed, along with the artists that are performing.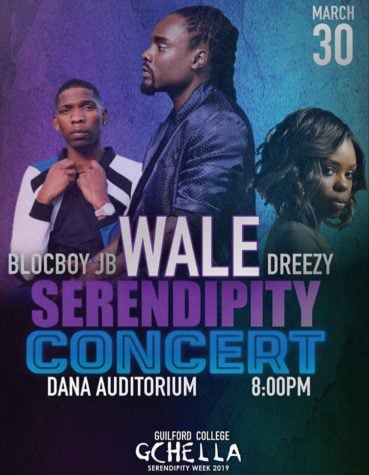 On March 30, Wale, BlocBoy JB and Dreezy will be on campus to perform some of their hit songs for us.
It is exciting for a school like Guilford to host such a concert, but I feel as if the planning committee could have done better with their choices.
Not saying that the performers will not bring an exciting crowd from the Guilford community, but I personally feel like it will not be as anticipated from majority of the Guilford students.
Out of the three artists, there is only one of which I enjoy some of their music: Wale.
Wale is a part of Maybach Music Group that consists of other artists such as Rick Ross and Meek Mill, and I enjoy a good bit of their older music. So, Wale is acceptable to an extent, but he's quickly dropping off the radar for American rappers.
BlocBoy JB, meanwhile has only a few hit songs that are popular, and they're only popular because of a catchy chorus or through a dance move that is incorporated with the song that went viral.
Dreezy was an artist that I essentially had to look up on the internet due to her work not being in a top-25 track list of popularity.
I believe it is important to address that the three artists chosen have no musical diversity among them. Diversity is a huge value in the Guilford community, and having three artists from the same realm of music (hip-hop and R&B) would not attract a diverse group of students from the Guilford community.
Something the planning committee should take into consideration for next year's Serendipity is selecting artists from multiple genres of music to perform like country, hip-hop and R&B.
That way, the acts can cover a wider breadth of musical interests. Assuming that not everyone will be satisfied with the final decisions, it wouldn't hurt to try to attain a wider variety of acts for the biggest event of the week.
Also, the Serendipity committee should ask a wider variety of students on who they want to see perform. It is necessary for students to be aware of the preparations, so better marketing of these polls is important and would have helped with the committee's final decision.
However, lots of fun will still be had, as such big events are rare on a campus like Guilford's. The planning committee did a swell job with the decisions but could have had a better awareness of new trends and upcoming artists that are taking over music.
On behalf of myself, and the Guilford community, we nevertheless thank you for striving to ensure Serendipidity is fun for all.
View Comments(1)