Commencement Speaker presents on HEIPP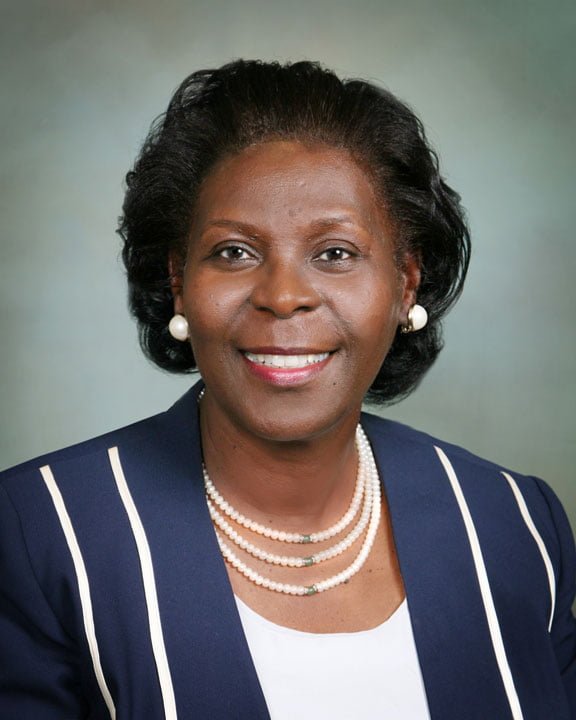 "Education is our primary hope for rehabilitating prisoners," said senator Claiborne Pell of Rhode Island in 1994. "Diplomas are crime-stoppers."
Patricia Timmons-Goodson, an associate justice of the North Carolina Supreme Court, repeated the words of senator Pell during her talk, "Hope for the Incarcerated: Guilford College's Higher Education in Prisons Program" on Wednesday, April 26 in the experimental classroom of Hege Library.
Timmons-Goodson's presentation covered the importance of education for prisoners re-entering society and highlighted incarceration statistics in the United States.
"I thank all of those that have conceived, promoted and initiated the Guilford College Higher Education in Prisons Program," said Timmons-Goodson. "I believe that, if nothing else, I can encourage you and assure you that you're on the right track with this."
Timmons-Goodson's own interest in educating prisoners started when she took speech classes at the University of North Carolina at Chapel Hill.
"The courses were commonly called the 'prison courses,'" said Timmons-Goodson. "It was the responsibility of the undergraduate students to teach the prisoners a speech course.
"We learned that the only difference between us and the inmates … was the opportunities in life that we had been granted. We saw the good in those inmates."
In recent years, the incarceration rates in the U.S. have increased significantly.
According to Timmons-Goodson's presentation, the U.S. incarcerates more people than any other country in the world. Additionally, the incarceration rates in the U.S. are five to ten times higher than those of other democracies.
When these prisoners are released, they often leave with only some gate money, which is a predetermined amount of money given upon release, and a bus ticket. Once former prisoners re-enter society, it is difficult for them to be successful.
"Once released, some former inmates cannot get a (professional) license … that allows (them) to work," said Timmons-Goodson. "Once released, many prisoners can't attend college because they're disqualified from seeking educational loans. So often, prisoners leave prison unskilled and undereducated. They leave often worse off than they were when they entered."
As a result of these collateral consequences of imprisonment, more than 50 percent of released offenders will re-offend within three years.
The Higher Education in Prisons Program is helping to change this.
"Folks, the hope is in (the inmates) getting an education," said Timmons-Goodson. "Research shows that the recidivism rate drops for those who earn an associate degree or a bachelor's degree while in prison. Guilford College is taking an active role in educating incarcerated persons and consequently helping to reduce the recidivism rate."
Sophomore Kristy Shammas, a criminal justice and forensic accounting double major, attended the talk to gain insight on the significance of education within prisons.
"I was really interested in hearing what Patricia Timmons-Goodson had to say about the incarceration system in the U.S. and her experience being a lawyer," said Shammas. "I think she made some really good points about how we need to reform the system and provide education for incarcerated people. As she said, we need to have hope in humans. After they take their punishment … they deserve to build lives after, and sometimes it's really hard for them to do that."
About 25 people came to hear Timmons-Goodson speak, primarily faculty and staff.
"Coming today was definitely necessary for me. … At the last minute I just got this urge that I really needed to be here," said Meredeth Summers, director of Special Events and Donor Relations, and a first-year law student. "There were so many things she said today that spoke directly to me, and not only provided enlightenment, but empowerment too.
"I have always had a passion for being able to help ex-convicts and felons to re-enter society in a much better way than they're prepared to do. I just want to educate myself enough to be able to help."
With programs such as the Higher Education in Prisons Program at Guilford, people are encouraged to not only help prisoners receive a better education, but also to inspire hope for a better life after release.