Hege award recognizes student research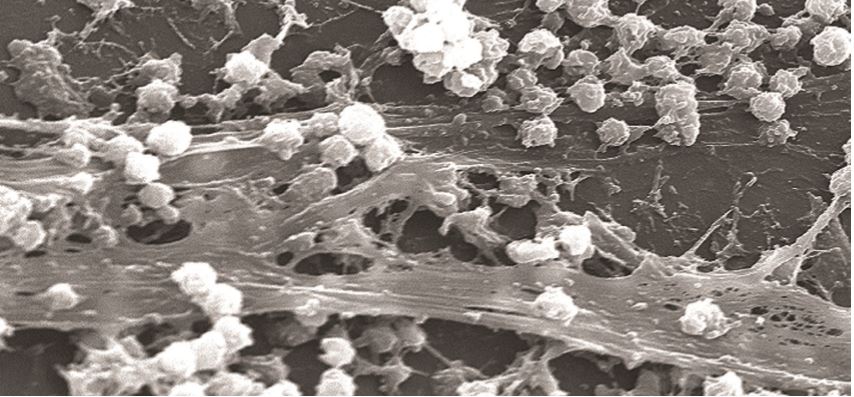 From infections in prosthetics to a sense of belonging in college, Guilford College students have been conducting research to answer questions that were unresolved until now.
The Hege Library Research Award, funded by Guilford College Friends of the Library and Guilford alumni H. Curt '56 and Patricia S. Hege '57, celebrates these student research projects. Each year, two students receive the award after submitting their abstracts to be read by the Hege Library Research Award review committee. 2017 marked the third anniversary of the award, and seniors Ro Lutenbacher and Taryn McFadden were chosen as winners.
"I think, being a woman in any kind of research field, you automatically have a feeling of impostor syndrome no matter what," said McFadden. "So the fact that both of us are women receiving this award … definitely gives a sense of validity to what I'm doing and helps reinvigorate how much I want to get answers."
McFadden's research focused on the effect of biofilm on plastics that are typically used in prosthetics.
"Biofilms are a polysaccharide layer that microbes can form that protects (microbes)," said McFadden. "So in a world where we're constantly in a battle against antibiotic resistance in microbes, having them have a shield is just the worst case scenario."
Currently, there is no permanent treatment for those who have a biofilm infection in their prostheses, so in order to treat the biofilm, the prosthesis itself has to be removed.
"What I hope (to do) is to identify which polymers are more susceptible to the biofilm," said McFadden. "Overall, it should limit the strain on the healthcare community and the pain in recovery time for the patient."    
Lutenbacher's research combined her interests in psychology and Spanish to study the sense of belonging in higher education and familism in Latino students.
"It started out being a regular correlational study in psychology," said Lutenbacher. "I sent out a survey, but unfortunately, I didn't get enough participants, so we thought it would be really interesting to … incorporate some qualitative and quantitative data.
"So I decided to start conducting interviews. I interviewed 10 participants, five male and five female, at Guilford College, and we also added a piece about surveying Caucasians and surveying other Latinos in general."
Lutenbacher hopes her research will have implications for higher education institutions.
"Latinos are really not talked about as often as I think they should be, especially in a higher education institution (where) there's such as small population of Latinos," said Lutenbacher. "We like to say Guilford is very diverse, but it doesn't mean that the Hispanic population is big at all.
"Something that I really want to see done with my research (is) not only for Guilford to be able to focus on … remembering that this group is here, but also to focus on the bigger picture: realizing that (a) sense of belonging in college isn't just based on one or two factors."
Both McFadden and Lutenbacher cite their advisers, Professor of Biology Melanie Lee-Brown and Associate Professor of Psychology Eva Lawrence respectively, as major supporters of their research.
"Part of why I do it is my passion for students to be able to get involved with research," said Lee-Brown. "It's an exploration into what they would like to do (within) specific topics, and I've seen a lot of students … really catch on fire when it comes to research."
Despite having awards such as the Hege Library Research Award to recognize projects and having thesis advisers to help students, McFadden and Lutenbacher noted that many students who had research projects still did not submit their abstracts for the award.
"I don't think it should be up to just the faculty to encourage their student," said Lutenbacher. "But I feel like Guilford as a whole … could do something that would promote it."
According to McFadden and Lutenbacher, winning this award has been special, specifically because their studies were in different fields. They hope more Guilford students will ask thought-provoking questions and research them in the future.
"Start early and make it something that you love because you're (going to) be working with it so much," said Lutenbacher.